Stuffed and baked
You won't miss the meat in these quinoa stuffed bell peppers. This vegetarian dish will fill you up.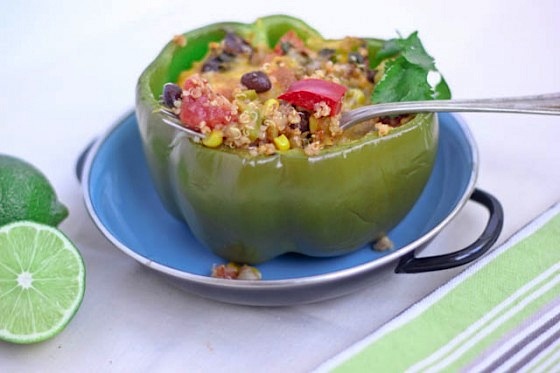 If you haven't tried quinoa yet, you're missing out! This versatile ingredient provides an excellent base for the filling in these bell peppers that are bursting with flavor.
Black bean and quinoa stuffed bell peppers recipe
Yields 8 small or 4 large peppers
Ingredients:
4 large bell peppers (or 8 small), tops cut off, seeds and membrane removed
1 (15 ounce) can corn, drained
1 cup quinoa
2 cups vegetable broth
2 teaspoons olive oil
1/2 cup chopped yellow onion
1 clove garlic, minced
1 small red chili pepper, diced
1/2 cup chopped cilantro
2 teaspoons cumin
1 teaspoon dried oregano
1/2 teaspoon sweet paprika
1/8 teaspoon salt, more or less to taste
1/4 teaspoon ground black pepper
1 (15 ounce) can black beans, drained and rinsed
1 (15 ounce) can diced tomatoes
1 (4 ounce) can diced green chilies, drained
Juice of 1 lime
1/4 cup grated cheddar cheese
Directions:
Cook quinoa according to package directions using the 2 cups vegetable broth in place of water. Reserve.
Preheat oven to 375 degrees F.
Heat a dry skillet over medium-high heat. Add the corn and brown evenly. Transfer to a bowl and set aside.
Heat olive oil in the same skillet. Cook the onions and garlic until they begin to soften. Add the diced chili pepper, 2 tablespoons cilantro, cumin, oregano, paprika, salt and pepper. Stir to combine, then stir in the black beans, tomatoes, green chilies, cooked quinoa and lime juice. Remove from heat.
Place the peppers into a deep baking dish and divide the filling evenly between the peppers. Top each pepper with cheese and remaining cilantro. Cover the dish with foil and bake for 20 minutes. Remove the foil and bake for an additional 5-10 minutes until the cheese is browned and the peppers are tender.
More Daily Flavor
Pita bread salad sandwich with Bolognese sauce
Barley salad with chickpeas, fava beans and peas
Cauliflower salad with homemade vinaigrette