It's a wrap!
Who doesn't love biting into a crisp lettuce wrap full of spicy Thai chicken? You don't have to go out to get this restaurant favorite at home.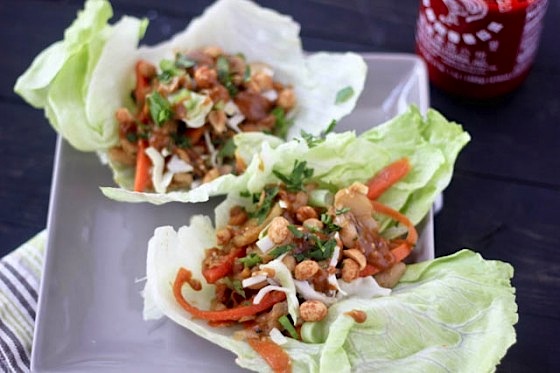 Whip up this easy appetizer if you've got leftover chicken in the fridge. Spicy, fresh flavors give last night's dinner a whole new life.
Thai chicken lettuce wraps with honey-peanut drizzle recipe
Serves 4
Ingredients:
For the lettuce wraps:
2 cups cooked chicken, diced
1 tablespoon canola oil
1/2 cup chopped yellow onion
2 cloves garlic, minced
4 green onions, chopped, divided use
1/3 cup julienned carrots
1 (5 ounce) can sliced water chestnuts
1/2 cup chopped peanuts, divided
1/4 cup chopped cilantro, divided
1 teaspoon Sriracha sauce
1 teaspoon soy sauce
1/2 cup shredded cabbage
Salt
Pepper
8-12 lettuce leaves
For the sauce:
1 tablespoon creamy peanut butter
1 tablespoon honey
1-1/2 teaspoons soy sauce
1/2 teaspoon sesame oil
1/2 teaspoon freshly grated ginger
1/2 teaspoon Sriracha sauce
1/4 teaspoon sesame seeds
Directions:
Whisk all sauce ingredients together. Cover and refrigerate until ready to serve.
Heat oil over medium heat in a large nonstick skillet. Saute onion, garlic, half the green onions and carrots until soft, 7-8 minutes. Season with salt and pepper.
To the pan, add chicken, water chestnuts, remaining green onions, half the peanuts, half the cilantro, Sriracha and soy sauce. Season with salt and pepper. Stir well. Allow the mixture to cook for 1-2 minutes more.
Serve the mixture with lettuce leaves and garnish with cabbage, remaining peanuts and cilantro, and honey-peanut sauce.
More Daily Flavor
Spicy grilled skirt steak with Thai red chili sauce
Curried chicken salad
Buffalo chicken meatballs