Some like it hot
Calling all spice lovers — this one's for you! Buffalo chicken soup is a quick and easy weeknight meal that packs a huge flavor punch.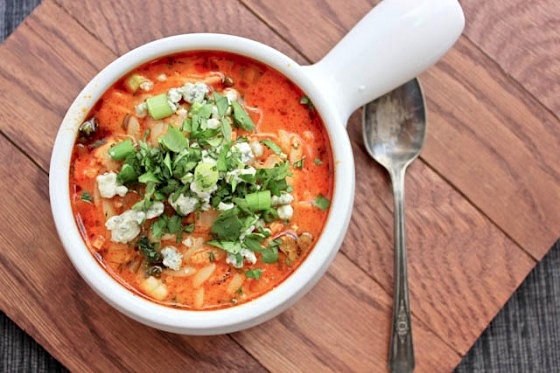 Serious Buffalo wing fans won't be able to get enough of this fiery chicken soup. Make sure you have something to wash it down with!
Buffalo chicken soup with orzo recipe
Serves 4
Ingredients:
1/2 cup uncooked orzo pasta
2 teaspoons olive oil
1/4 cup chopped yellow onion
1 clove garlic, minced
2 medium carrots, peeled and cut into half moons
2 teaspoons ranch dressing seasoning mix
3 tablespoons chopped cilantro, divided use
32 ounces chicken stock
2/3 cup Frank's Buffalo Wing Sauce
4 ounces cheddar cheese, grated
4 ounces Parmesan cheese, grated
2 cups cooked chicken, cubed or shredded
1/4 cup chopped green onions, divided use
1/4 cup blue cheese crumbles
Directions:
Cook orzo according to package directions until about halfway done. Drain and set aside.
Heat olive oil in a large Dutch oven. Saute onion, garlic and half of the green onions in the olive oil until the onions are soft. Add carrots, ranch dressing seasoning and 2 tablespoons cilantro. Stir to combine and saute until the carrots begin to soften.
Add chicken broth, Buffalo sauce, cheddar, Parmesan and shredded chicken. Stir to combine and bring to a simmer. Reduce heat and simmer for 10 minutes, until the carrots are tender.
Bring the soup to a boil, add the orzo and stir frequently until orzo is al dente.
Top with blue cheese crumbles and remaining green onions and cilantro.
More Daily Flavor