Sweet, salty
and chocolaty
One bite of these caramel-drizzled salted turtle cookies, and you'll be hooked!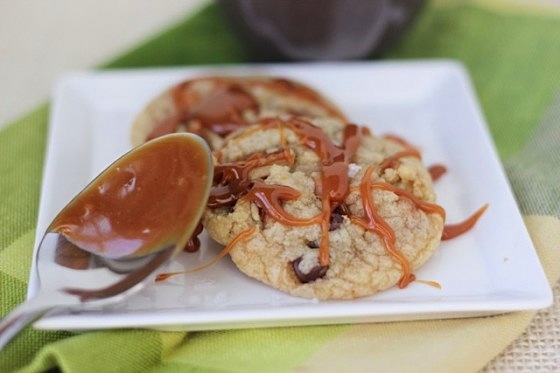 Sweet and salty turtle cookies satisfy all your cravings in one bite, making these the perfect dessert. Watch out — you won't be able to eat just one.
Salted turtle cookies recipe
Yields 3 dozen
Ingredients:
For the cookies:
3/4 cup (1-1/2 sticks) butter
2 cups plus 2 tablespoons flour
1/2 teaspoon baking soda
1/2 teaspoon salt
1 cup brown sugar
1/2 cup sugar
1 egg
1 egg yolk
1 teaspoon almond extract
1/2 cup semisweet chocolate chips
1/2 cup caramel bits
1/2 cup chopped pecans
For the topping:
Sea salt
1/3 cup caramel sauce (store-bought or use this recipe)
Chopped pecans
Directions:
Preheat oven to 325 degrees F.
In a medium microwave-safe bowl, melt the butter. Set aside and allow it to cool for 10 minutes.
In another bowl, measure flour, baking soda, and salt and whisk to combine. Set aside
Add both sugars to the butter and mix by hand or with an electric mixer. Add the egg and egg yolk and mix to combine. Stir in the almond extract. Slowly stir in the dry ingredients and mix just until combined. Add the chocolate chips, caramel bits and chopped pecans and mix thoroughly. If the batter is tough, use your hands to get everything combined.
Scoop dough onto a parchment paper lined baking sheet (a 1-1/4 ice cream scoop works well). Chill the dough for 15 minutes.
Bake for 10-12 minutes. Transfer to a wire rack and sprinkle with sea salt. Let the cookies cool completely. Once cooled, drizzle with caramel sauce and chopped pecans.
More Daily Flavor
White chocolate confetti cookie pie
Nutella and cherry pizza
Apple fritters