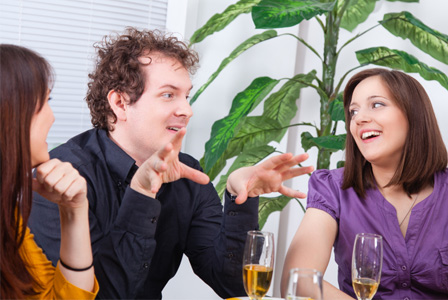 Dinner parties are no longer just about serving dinner. In order to really impress your guests, have a fun lineup of games sure to make for a great time!
Dinner parties are more than just dinner!
Think back to the last dinner party you attended. What was the best part? What made it memorable? Most likely, it wasn't the decor, the designer outfits or even the food, but the people and the laughter that stick out. For the next dinner party you throw, keep this in mind. To ensure plenty of laughter that will leave your guests begging to come back, play games! It's as simple as that — and we've found the best ones that are sure to guarantee a good time. Let the games begin!
Catch Phrase
Tip: This game is not for the faint of heart as it can get very loud and competitive!
We like games that keep everyone involved, and Catch Phrase does just that. Divide your party into two teams (boys versus girls will always get some extra laughs). When it's your turn, you describe the word on the electronic device and try to get your team members to guess it. If they guess correctly, pass the device to a person on the other team. Now they try to get their team to guess the new word. Go quickly, though, because if the time runs out and your team is holding the device, the other team scores a point! First team to seven wins.
Apples to Apples
Another crowd favorite, Apples to Apples is perfect for larger dinner parties of up to 10 people. Once named "Party Game of the Year" by Games magazine, this game will make you laugh harder than you ever have before. Each player gets seven red cards with one random noun or phrase on each card. The "judge" (you'll take turns being judge) picks one green card with an adjective and places it face up for everyone to see. Of the red cards you're holding, pick the word that best describes that adjective and place face down. The judge then reads everyone's cards and picks the one he/she likes best! Whoever the winning card belonged to gets a point.
Farkle
A dice game similar to Yahtzee, Farkle is good for either small or large crowds. It's a game of risk and challenges — yet is super simple (we like fun, simple games for dinner parties). Each player takes their turn rolling six dice. Different combinations will get you different scores, and it's up to you to keep that score or roll again and risk losing everything. First player to 10,000 points wins!
The Wine Guessing Game
This is the perfect game to play if all of your guests are wine fanatics. Have each person (or couple) bring a bottle in a paper bag. Pour everyone a sample and have them try and guess the origin of the wine, the price range, the specific type of wine and/or the age of the wine. Do this with everyone's bottle. Whoever gets the most correct answers wins! And what do they win? Perhaps a bottle of wine…
More entertainment ideas
Take your dinner party from drab to fab
10 Tips for dinner party success
5 Tips for stress-free entertaining