You wouldn't know it by looking at Maria Menounos, but her favorite guilty pleasure food is full of bacon, cheese and sour cream. That's right, our February Girl Crush likes to chow down on loaded potato skins. We're guessing the busy Extra host and author of The EveryGirl's Guide to Life doesn't eat too many of these sinful snacks, but we can certainly appreciate a girl who likes to indulge from time to time!
Next time you crave a little guilty pleasure food, think like Maria does and whip up a batch of these loaded potato skins.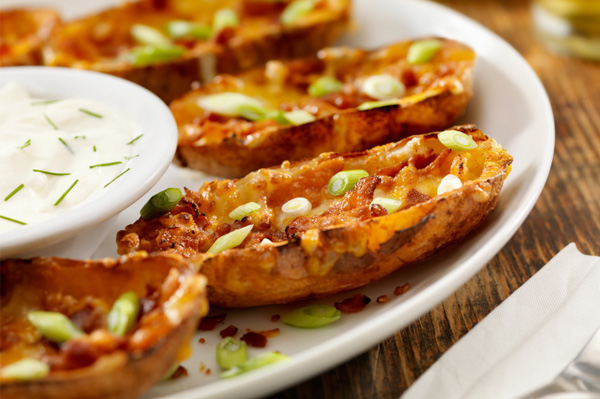 Easy loaded potato skins
Yields 12
Ingredients:
6 medium russet potatoes, scrubbed and dried
2 tablespoons unsalted butter, melted
6 ounces grated cheddar cheese
5 strips bacon, cooked and crumbled
Sour cream
Chopped green onions
Salt
Pepper
Directions:
Preheat oven to 400 degrees F.
Using a fork, poke several holes into each potato, then place potatoes on oven rack. Bake for about 1 hour, until a knife inserts easily into the middle.
Let potatoes cool enough to handle, then slice in half lengthwise. Scoop out most of the potato, leaving some in the skin. (Save discarded potato for later use.)
Turn broiler on high.
Brush the outside of the potatoes lightly with melted butter. Generously brush the insides and season with salt and pepper. Place cut side up on a baking sheet and place under the broiler until crisp.
Remove from oven and fill potato skins with cheese and bacon. Return to broiler until cheese is melted and bubbling.
Top with sour cream and green onions.
More on Maria Menounos
Make like Maria Menounos and pamper yourself at home
Maria Menounos: My parents inspire me
Maria Menounos shoots, scores and stays in shape