Don't Share,
Grab Your Own!
In this version of a classic Mexican dip we create mini sizes so that everyone gets their very own! Layers of beans, salsa, guacamole, sour cream and cheeses are topped off with fresh tomatoes and green onions, making these little dips the perfect portion size.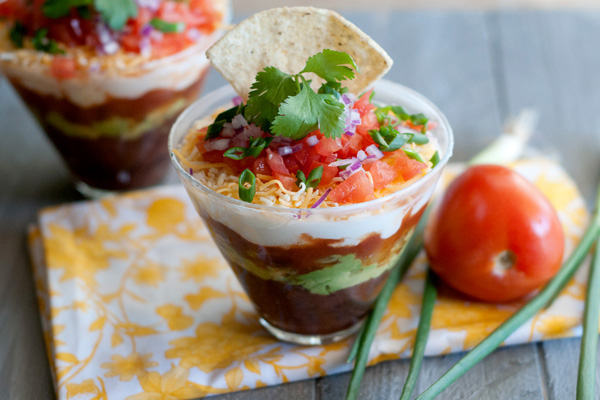 Who doesn't love 7 layer dip? In this fun recipe, we simply created mini versions of this tasty dish so that it's super portable, and you don't have to share! Great for parties, picnics or just to keep on hand for a quick snack. Since the sizes are portioned out, you won't feel guilty about any overindulging.
Individual 7 layer dips recipe
Serves 12
Ingredients:
12 small clear glass or plastic cups
1 (16 ounce) can black or regular refried beans
1 package taco seasoning
2 cups guacamole, homemade or store-bought
1 (8 ounce) container light sour cream
2 cups of your favorite salsa
1 cup shredded cheddar cheese
2-3 Roma tomatoes, diced
1/2 bunch green onions, sliced
1/2 cup sliced black olives
Tortilla chips (one for each cup plus additional for dipping)
Directions:
In a mixing bowl, mix taco seasoning and the refried beans, making sure they are combined well.
In a plastic cup, begin layering the dip (bean mix, sour cream, guacamole, salsa, cheddar cheese, green onions, tomatoes & olives, top with a tortilla chip). Repeat for the remaining cups. Serve immediately.
Tip: You can make these dips ahead of time and keep them in the refrigerator until ready to eat. We suggest not adding the tortilla chips to the dips until you are ready to serve.
Quick tip
If you do not have sour cream or want to keep it a bit healthier, you can substitute plain Greek yogurt since they are both thick, creamy and slightly tart.
More individual serving-sized recipes
Mini meatball sliders
Leftover mini green bean frittatas
Mini no-bake brownie batter cheesecakes