Less guilt,
tons of flavor
Creamy dips can be full of indulgent ingredients, but this caramelized onion spinach dip reduces the guilt by using Greek yogurt.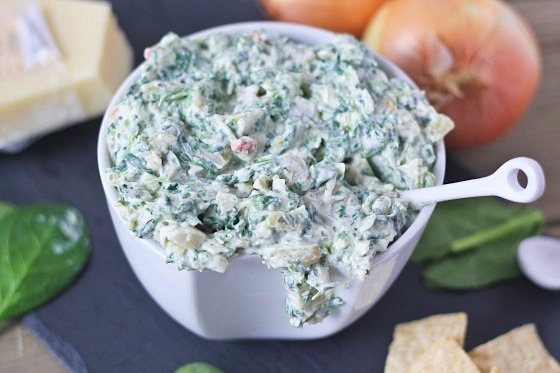 Pass up those premade dips full of preservatives and extra calories. This homemade spinach dip is a cinch to make and tastes better, too!
Caramelized onion spinach dip recipe
Yields about 2 cups
Ingredients:
For the caramelized onions:
3 teaspoons olive oil
2 yellow onions, coarsely chopped
1 clove garlic, minced
1/4 teaspoon salt
1-2 tablespoons water
For the dip:
16 ounces plain Greek yogurt
1/4 cup mayonnaise (optional)
10 ounces frozen chopped spinach, thawed and drained of excess water
1 can water chestnuts, chopped
1 package of vegetable dip mix (like Knorr)
1/2 cup shredded Parmesan cheese
1/4 cup shredded mozzarella cheese
1/8 teaspoon cayenne pepper
1/2 teaspoon black pepper
1/4 teaspoon salt
Directions:
For the caramelized onions:
Heat oil in a large nonstick skillet over medium-high heat. Add the onions, garlic and salt and stir to combine. Cook for about 10 minutes until the onions are soft. Add the water and stir to combine. Reduce the heat to medium and cover pan, leaving it slightly cracked. Continue cooking, stirring often, until onions are nicely caramelized.
For the dip:
Mix the yogurt, mayonnaise, spinach, water chestnuts, dip mix, cheeses, cayenne pepper, black pepper and salt in a large bowl.
When the onions are caramelized, add them to the yogurt mixture and stir well to combine.
Cover and refrigerate for at least 30 minutes. Serve chilled with chips, crackers, pita bread or veggies.
More Daily Flavor
Slow roasted tomatoes
Black bean hummus
Bruschetta with tomatoes and basil