Taste the rainbow
Sprinkles make everything more fun, especially when it comes to dessert. This colorful confetti cookie pie is as much fun to make as it is to eat.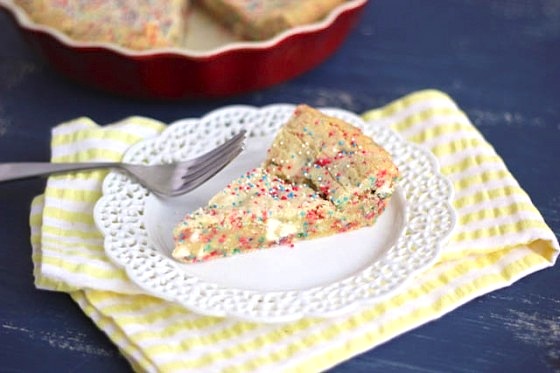 No matter what you're celebrating, you can't go wrong with this brightly colored confetti dessert. Kids and adults alike will love it!
White chocolate confetti cookie pie recipe
Adapted from Fat Girl Trapped in a Skinny Body
Yields 1
Ingredients:
2-1/4 cups bread flour
1/4 cup cornstarch
3/4 teaspoon baking soda
1/2 teaspoon salt
1 cup unsalted butter, room temperature
1-1/4 cups sugar
2-1/2 teaspoons vanilla extract
1/2 teaspoon almond extract
1 egg
1 cup white chocolate chips
1/2 cup rainbow sprinkles
Directions:
Preheat oven to 375 degrees F. Grease a 10-inch round pie dish.
In a large bowl, mix together the flour, cornstarch, baking soda and salt.
In the bowl of an electric mixer fitted with a paddle attachment, beat the butter and sugar together until creamy and smooth, about 2 minutes. Scrape down the sides of the bowl. Add the vanilla, almond and egg. Beat for 7-8 minutes until the mixture is very fluffy, and there are no visible streaks of butter.
Scrape down the sides of the bowl. With the mixer on low, slowly add the flour mixture and mix until just incorporated and no white streaks remain.
Add in the white chocolate chips and the sprinkles and mix so they are fully distributed in the dough.
Pour the dough into the prepared pan and bake for 22-24 minutes. The edges will be slightly browned and the center will still be slightly underdone. Allow the pie to cool completely before cutting.
More Daily Flavor
Glazed lemon poppy seed muffins
Very vanilla cupcakes
Cornflake chocolate chip marshmallow cookies