Quick & easy dinner
Amp up a quick pasta dish with smoky paprika, fresh herbs and two kinds of cheese.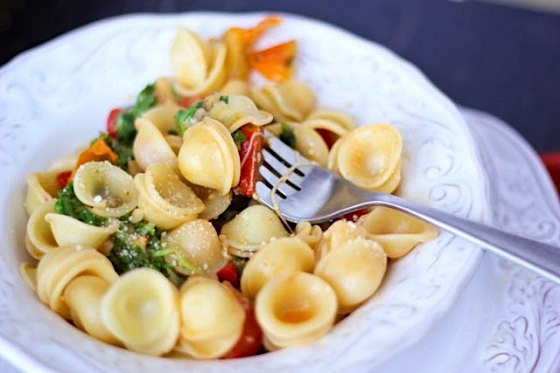 This pasta dish is easy enough for a busy evening. But with flavors like this, you'd never guess how simple it is to make.
Smoky tomato, roasted red pepper and arugula pasta recipe
Serves 2
Ingredients:
8 ounces short pasta
2 teaspoons olive oil, divided use
1 shallot, minced
1 clove garlic, minced
1 cup grape tomatoes, halved
1/2 cup roasted red peppers, chopped
1/4 cup fresh basil, chopped, divided use
1 teaspoon smoked paprika
1/2 teaspoon crushed red pepper flakes
1/2 teaspoon salt
1/4 teaspoon black pepper
2 cups fresh arugula
2 ounces fresh mozzarella cheese, diced
1/4 cup Parmesan cheese
Directions:
Cook pasta according to package directions, reserving 1/4 cup of the pasta cooking water.
Meanwhile, heat 1 teaspoon of olive oil in a large pan over medium heat. Add the shallot and garlic and cook until soft, about 6 minutes. Add the tomatoes, roasted red peppers, half of the basil, smoked paprika, crushed red pepper flakes, salt and pepper. Stir to combine. Let the mixture cook for another 5 minutes or until the tomatoes begin to soften.
Add the arugula to the pan and drizzle the remaining 1 teaspoon olive oil over the arugula. Stir it to combine and cook until the arugula wilts.
Turn the heat to low and stir in the mozzarella cheese. Add the cooked pasta and the reserved pasta water. Stir lightly to combine.
Top with Parmesan cheese.
More Daily Flavor
Pasta with asparagus, pancetta and tomatoes
Spaghetti carbonara
Lasagna with bechamel and meat sauce