A Kansas City
barbecue treat
A grilled cheese sandwich piled high with burnt ends brings Kansas City into your kitchen.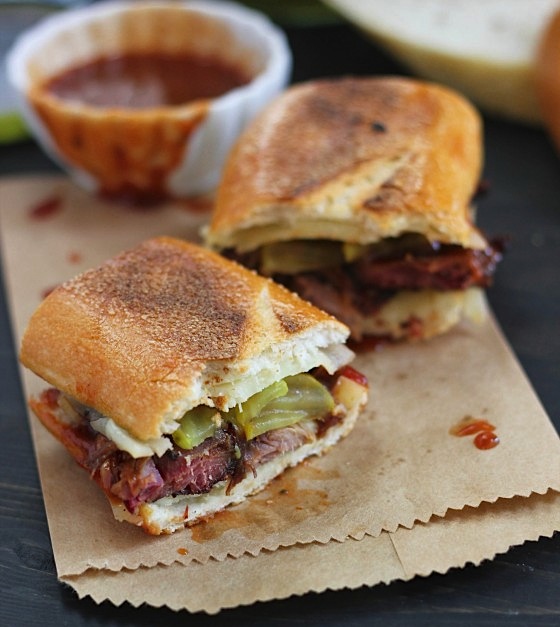 Never heard of burnt ends? Contrary to their name, they're not something you want to throw in the garbage. Burnt ends are the delicious pieces of meat from the point of a smoked brisket, and you'll be hooked with the first bite.
Burnt ends grilled cheese sandwich recipe
Yields 1 
Ingredients:
1 (3-4 inch) piece of baguette, sliced in half
1/3 cup cooked burnt ends (or other smoked meat of your choice)
5-6 pickles
2 slices provolone cheese
Barbecue sauce
Directions:
Place one slice of cheese on each half of the baguette. Pile the burnt ends on one side, drizzle with barbecue sauce and top with pickles. Close sandwich.
Heat a small nonstick pan over medium heat. Place the sandwich in the pan and cook over medium heat until the cheese is melted and the outsides of the bread are toasty, flipping once.
Serve with additional barbecue sauce on the side.
More Daily Flavor
Avocado, white cheddar and tomato grilled cheese
Pepperoni and cheese stuffed ciabatta
Grilled cheese rolls