A big bowl of flavor
A steaming hot bowl of this chicken tortilla soup full of veggies and Mexican flavors will warm you up in a hurry.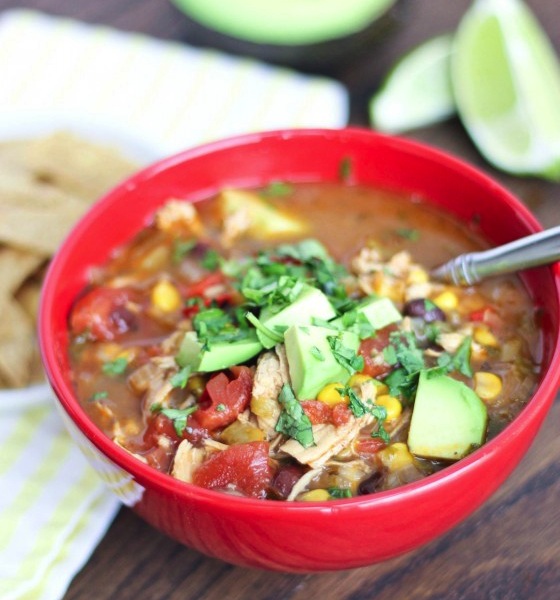 Soup's on! A batch of hearty chicken tortilla soup is just what the doctor ordered for these cold winter nights. Heat things up a little more by topping your bowl with fresh salsa.
Chicken tortilla soup recipe
Inspired by The Pioneer Woman
Serves 8
Ingredients:
For the soup:
1 pound boneless, skinless chicken breasts

1-1/2 teaspoons cumin

1-1/2 teaspoons chili powder

1/2 teaspoon garlic powder

1/2 teaspoon black pepper

1/4 teaspoon kosher salt

1/4 teaspoon oregano

1/4 teaspoon paprika

1 tablespoon olive oil, divided 
use
1 large red onion, diced

2 cloves garlic, minced

1 red bell pepper, diced

1 jalapeño, diced

1 lime, juiced and zested

1/2 cup cilantro, chopped

1 (15 ounce) can black beans, drained and rinsed

1 (10 ounce) can green chilies

1 (14-1/2 ounce) can diced tomatoes

1 cup fresh corn

1 tablespoon tomato paste

32 ounces low-sodium chicken stock

Salt
Pepper
For the garnish:
Lime wedges

Diced avocado

Sour cream

Tortilla chips
Salsa

Diced onion

Chopped fresh cilantro

Shredded cheese
Directions:
Preheat the oven to 350 degrees F.
In a small bowl, mix the cumin, chili powder, garlic powder, black pepper, kosher salt, oregano and paprika. Brush both sides of each chicken breast with a light coating of olive oil. Sprinkle a small amount of the spice mixture (reserving the rest) onto both sides of each chicken breast and place on a nonstick baking sheet.
Roast the chicken in the oven for 20-25 minutes, turning once, until the chicken is cooked through. Allow the chicken to cool for about 10 minutes, then shred.
While the chicken cooks, heat the remaining olive oil over medium heat in a large pot. Add the onion and garlic, along with a pinch of salt, and saute for 3-4 minutes until the onions begin to soften. Add the bell pepper, jalapeño, lime juice and cilantro. Stir well. Cook for another 3-4 minutes until the peppers begin to soften. Add the remaining spice mixture, black beans, green chilies, diced tomatoes and the corn. Stir well. Cook for about 6 minutes until all of the vegetables are tender.
Add the tomato paste and stir to combine. Slowly stir the chicken stock into the vegetable mixture and add the shredded chicken. Bring the soup to a boil, cover, reduce to a simmer and cook for another 15 minutes, stirring occasionally. Add salt and pepper to taste.
Top with desired garnishes.
More Daily Flavor