Cheese, please!
Grilled cheese sandwiches layered with white cheddar, avocado and tomatoes are a quick and easy lunchtime treat.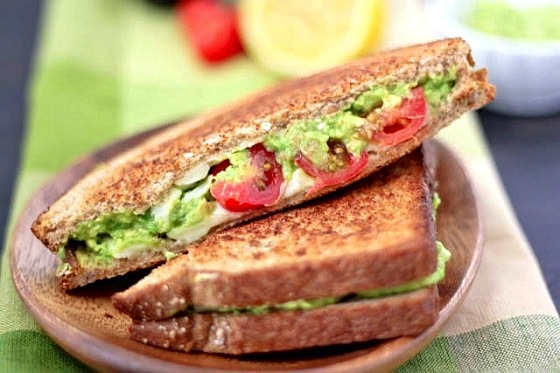 You can't go wrong with a regular ol' grilled cheese, but when it's filled with creamy avocado it's even better. Lunch never looked so good!
Avocado, white cheddar & tomato grilled cheese recipe
Inspired by Two Peas & Their Pod
Makes 2
Ingredients:
1 avocado
1 teaspoon lemon juice
1/2 teaspoon kosher salt
4 slices bread (like sourdough or whole wheat)
4 ounces sharp white cheddar cheese slices
8-10 grape tomatoes, sliced in half
Butter
Directions:
Remove pit and scoop avocado into a small bowl. Mash avocado with lemon juice and salt. Set aside.
Butter the outside of one slice of bread. Lay a quarter of the cheese on the unbuttered side of the bread. Add about half the smashed avocado and top with several tomato halves. Finish with another quarter of the cheese, then top with another slice of bread. Butter the outside of the top slice of bread.
Heat a frying pan over medium heat. Place sandwich in pan. When the bottom piece of bread is slightly browned, flip sandwich and brown other side. Cook until cheese is melted.
Repeat.
More Daily Flavor
Grilled cheese with tomatoes, pickles and potato chips
Smoked Gouda, ham and apple grilled cheese
Roast beef and caramelized onion grilled cheese