Artisan Chocolate
Even when chocolate is bad, it's pretty good. But these five artisan chocolate vendors are making the best must-taste artisan and small batch chocolates in the world.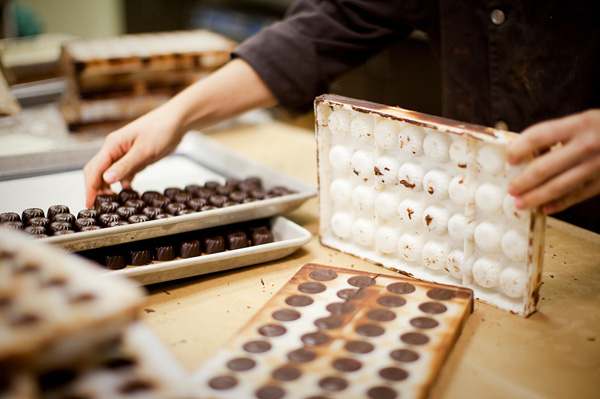 Chocolate is a little miracle wrapped in a package. Dark, sweet, delicious… even a small square is enough to lift the saddest soul. As good as the cheap stuff is, artisan chocolate made with the superior quality one expects from a chocolate master is just that much better. If this is the kind of chocolate experience you'd like, here are five chocolatiers who are producing creations that will delight any chocolate fan.
Patric Chocolate is a small chocolate producer from Columbia, Missouri, who is making some truly exceptional chocolates. This master chocolatier produces bars that are as complex as the highest quality wines. The complexity comes from their beans, which they hand select. Patric may be most famous for their PBJ chocolate, a bar that tastes of the famous sandwich without having a single bit of peanut butter or jelly in it. Other bars include mint chocolate, mocha, signature milk chocolate and 70% blend. You can order their products online.
2
Lake Champlain Chocolate
Lake Champlain hails from Burlington, Vermont, on the shores of Lake Champlain. They use Belgian chocolate as their primary bean and mix it in with all-natural ingredients to create a wealth of truffles, hot chocolate mix and chocolate bars. They pride themselves on being preservative free and Kosher as well. Their online store contains a huge number of items, which also includes nuts, fruits and caramels in addition to chocolate. Still, it's their truffles that look truly amazing and include milk chocolate, dark chocolate and organic varieties.
Vosges was started by Katrina Markoff in her apartment in Chicago and has grown into a fabulous artisan chocolate company. Vosges is one of the most playful chocolatiers to grace the ranks of artisanal chocolate and features wild pairings, including chocolate and chilies, chocolate and flowers and even devotes an entire section of their website to chocolate + bacon. It's hard to say which is the best of Vosges bars, but it's hard to go wrong with Mo's Milk Chocolate Bacon Bar.
If you recognize the name, Payard is the creation of legendary confectioner Francois Payard. He opened a café in New York, which serves his famous chocolates and cakes, and now allows you to go online and buy his works to eat in your home. The showpiece of his masterwork is his FBP collection. These selections of his favorite truffles are not cheap, but they are worth every penny. Try the Masterpiece I collection for a sampling of what Chef Payard can do.
Christopher Elbow is an artisan chocolatier based out of Kansas City, Missouri. He is a classically trained chef who has worked as a pastry chef for big names like Emeril Lagasse. However, his home is now Kansas City where he invents chocolates that would land other chefs in an asylum. His creations cover everything from chocolate with fruit, nuts, chilies, flowers, liquor and just about anything he can get his hands on. Fortunately, his chocolates are available for purchase online.
More on artisan foods
5 Best cheese artisans you've never heard of
5 Gifts under $20 for the chocolate lover
Buying artisan foods at the farmers market