They're cheesy, crunchy... nacho-y... delicious!
Grilled Cheese
Nacho Style!
Imagine your guests arriving to a warm tray of these ultimate nacho grilled cheese sandwiches at your upcoming Super Bowl party!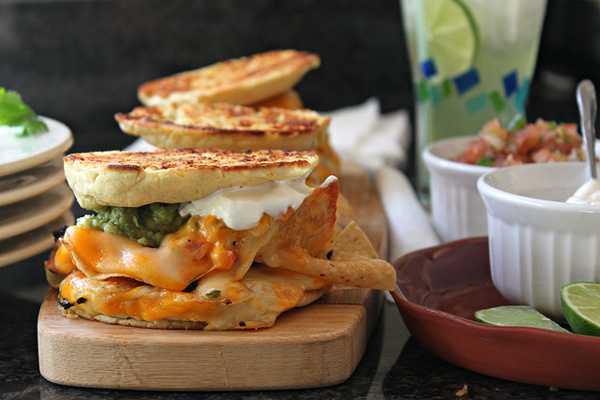 Ultimate nacho grilled cheese recipe
Yields 4 grilled cheeses
Ingredients:
4 English muffins (I used Thomas' Corn English muffins)
8 pieces colby Jack cheese
Bag of your favorite tortilla chips
Jar of nacho cheese or pimento cheese sauce
Small can of sliced or chopped black olives
Small jar pickled jalapeños (or one fresh jalapeño seeded and cut into slices)
1 can black beans, drained and rinsed
2 tablespoons chopped green onion
Prepared guacamole
Jar of your favorite salsa or homemade pico de gallo
Container of sour cream
1 tablespoon butter
Directions:
Preheat oven to 350 degrees F. Slice English muffins in half and separate them into tops and bottoms. In a large frying pan, melt 1/2 tablespoon of butter over medium-high heat. Once melted, place the 4 bottom pieces of the English muffins in the pan, inverted (so that the inside of the muffin is touching the pan). Allow the muffin bottoms to crisp in the pan about 2-4 minutes. Remove from pan, melt the other half tablespoon of butter and do the same thing with the tops of the muffins. Once crisp and lightly browned, remove from heat and set tops aside.
Next, take the muffin bottoms (again, inverted side up) and place them into a baking pan/tin with low sides. On each English muffin bottom, layer accordingly: one slice of colby Jack cheese, large handful of tortilla chips, spoonful of black beans, spoonful of chopped green onion, spoonful of sliced olives, a few jalapeño slices, spoonful of salsa or pica de gallo, and a heaping spoonful of nacho cheese or pimento sauce. Last top it all off with a second slice of colby Jack cheese.
Place the pan with the sandwiches (without the muffin lids) in the oven and bake about 6-8 minutes or until cheese is totally melted. Remove from oven, top with a scoop of sour cream, guacamole and additional salsa and green onion if desired. Place prepared English muffin lid on top, inverted as shown in the picture. Serve immediately with the extra chips, beans, salsa, etc., as additional sides.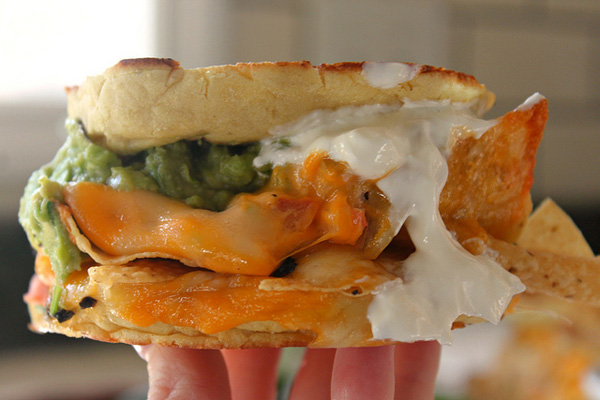 They may look
messy, but
these nacho
grilled sandwiches
are perfectly
eatable with
two hands!
More grilled cheese recipes
Smoked Gouda, ham and apple grilled cheese
3 Indulgent grilled cheese recipes
Gourmet grilled cheese