Sweet Sandwich!
Chocolate and raspberry make a perfect combination. Dark chocolate brownies are cut into heart shapes and used as a sandwich to hold perfect sweet raspberry buttercream. You will love this "sandwich!"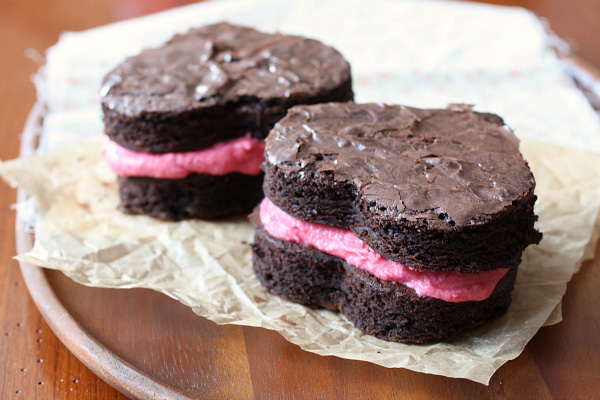 Looking for a simple yet delicious Valentine's Day sweet treat? This easy dessert can be put together in the afternoon and is ready to impress by dinner. We made it even easier by using a dark chocolate brownie mix. But don't worry, we still made our own frosting. We used frozen berries that we defrosted but if you can get your hands on some fresh berries that will work, too. These little "sandwiches" will be sure to impress!
Brownie heart sandwiches with raspberry buttercream recipe
Yields 3-6 brownie sandwiches (depending on size)
Ingredients:
Dark chocolate brownie mix for a 9 x 13-inch pan
1/3 cup defrosted frozen raspberries (or fresh)
1 teaspoon raspberry liqueur
Pinch of kosher salt
4 tablespoons unsalted butter, room temperature
1-1/2 cups powdered sugar
Directions:
Make brownies according to box directions. Line the pan with parchment before adding mix to the pan. This way you can easily pull the brownies out of the pan to cool and cut.
One brownies are cool, cut out into heart shapes. Your sandwich count will depend on the size of your cutter.
To make the frosting, add raspberries, raspberry liqueur, salt and butter to the large bowl of a stand mixer. Mix on medium until blended.
Slowly incorporate powdered sugar until fluffy. If your mixture is too loose, simply add a little more powdered sugar. If your mixture is too thick, you can thin it out with a little milk.
Spread frosting on top of one brownie heart and top with another brownie heart. Enjoy alone or with ice cream.
More brownie recipes
Brownie bites recipe
Pumpkin-chocolate swirl brownie recipe
Brown butter and walnuts brownie recipe