Breakfast In Bed
It's time for breakfast in bed! On Valentine's Day, your mate deserves a little pampering. These sweet red velvet pancakes are made even better by the addition of a cream cheese glaze.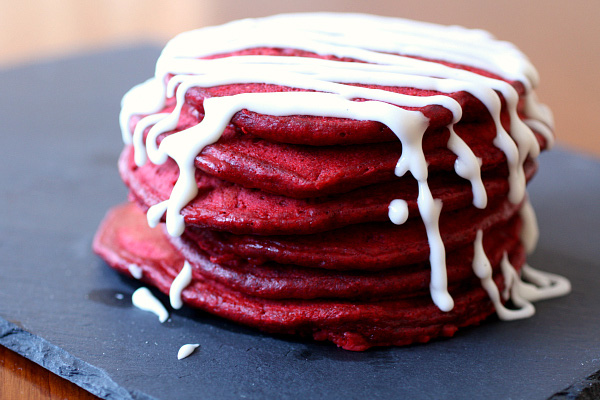 Looking for a romantic breakfast in bed? Look no further! These simple red velvet pancakes are sure to start your morning off right. Perfectly flavored, they are drizzled with a creamy vanilla bean cream cheese glaze. This recipe will be your new Valentine's Day treat!
Red velvet pancakes recipe
Adapted from Cooking Classy
Yields 2 dozen small pancakes
Ingredients:
1 cup all-purpose flour
1 cup white whole wheat flour
3 tablespoons cocoa powder
2 teaspoons baking powder
1/2 teaspoon baking soda
1/2 teaspoon kosher salt
2 cups buttermilk
1/2 cup sugar
2 large eggs
1-1/2 to 2 tablespoons red food coloring (depends on color you would like to achieve)
2 teaspoons vanilla extract
1/3 cup melted butter
Directions:
Preheat a griddle to 350 degrees F.
In a bowl add all-purpose flour, white whole wheat flour, baking powder, baking soda and salt. Set aside.
In a large mixing bowl add buttermilk, sugar, eggs, food coloring, vanilla extract and melted butter. Mix well.
Once combined slowly stir in flour mixture. Once batter is combined cook on griddle until bubbles appear and flip.
Drizzle with cream cheese glaze and enjoy!
Cream cheese glaze recipe
Yields about 1 cup glaze
Ingredients:
6 ounces cream cheese. room temperature
6 ounces unsalted butter, room temperature
2 cups powdered sugar
1/2 cup milk
1 teaspoon vanilla paste (or extract)
Directions:
In a bowl of an electric mixer add cream cheese and butter. Mix until combined.
Add in powdered sugar and thin out with milk. Add in vanilla paste and blend until smooth.
Drizzle over hot pancakes.
More red velvet recipes
Red velvet cupcake recipe
5 Red velvet creation recipes
Red velvet hot chocolate recipe