Encrusted in eggplant
This showstopping dish will wow your dinner guests when they cut into their own little packages of baked pasta encrusted in grilled eggplant.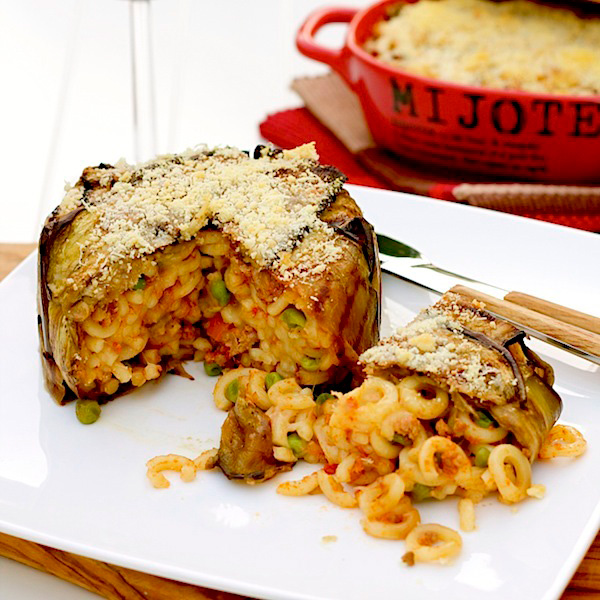 Don't let this recipe intimidate you. Although there are many steps, the techniques are basic, and you'll want to make this baked pasta again soon.
Baked pasta in eggplant crust recipe
Serves 2
Ingredients:
8 ounces anelletti pasta (small rings), or similar
2 large eggplant, sliced lengthwise about 1/4-inch thick
1 small yellow onion, chopped finely
1 small carrot, chopped finely
1/2 cup peas (frozen or fresh)
2-1/2 ounces ground beef
2-1/2 ounces ground pork
3 ounces Marsala wine
5 tablespoons tomato paste
15 ounces canned tomato puree
1/4 cup water
1/4 cup basil leaves, roughly torn
Olive oil
Salt
Pepper
Nutmeg (optional)
Breadcrumbs
3-1/2 ounces provolone cheese, diced
2 ounces Parmesan cheese
Directions:
Grill eggplant slices on a griddle. Season with salt and drizzle with olive oil. Set aside.
In a small bowl, whisk together Marsala and tomato paste. Set aside.
Heat a saucepan with a drizzle of olive oil. Saute onions until they color. Add carrots. Cook for about 5 minutes. Add ground beef and pork. Cook until brown, about 8 minutes. Pour in tomato paste mixture, tomato puree and water. Cook for 30 minutes on low.
Meanwhile, boil water for the pasta. When boiling, cook until it is just al dente, as pasta will continue cooking in the oven.
Add peas to the sauce and cook for another 15 minutes. If the sauce is too thick, thin it by ladling water from the pot you are boiling the pasta in. Add torn basil leaves and season with nutmeg, salt and pepper. Mix pasta into the sauce. Add cheeses, reserving a little Parmesan to sprinkle on top.
Preheat oven to 350 degrees F.
Oil two ring molds with olive oil. Cover with a thin layer of breadcrumbs and place in a baking dish.
Cover the bottom and sides of mold with grilled eggplant slices. You'll want eggplant to overhang the mold so that you can fold them over the top after filling the dish with pasta. Fill molds to the top with pasta. Cover the pasta with the sliced eggplant that you left hanging on the sides. Cover with a slice or two on top.
Drizzle with olive oil and sprinkle with breadcrumbs and the remaining grated parmesan cheese on top.
Bake for about 30 minutes. Let rest for about 15 minutes before removing molds and serving.
More Daily Flavor
Lasagna with béchamel and meat sauce
Sausage, cheese & sun-dried tomato pasta
Spaghetti carbonara