Stuff it!
You'll want to eat these pita bread sandwiches stuffed with fresh produce and chunky Bolognese sauce for lunch every day of the week!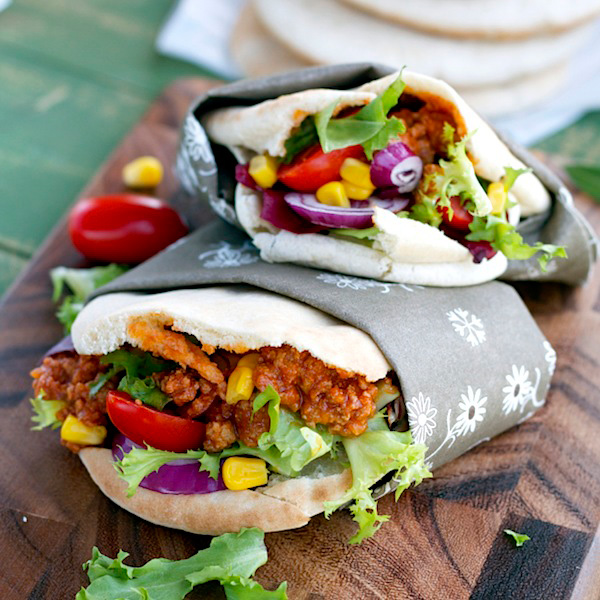 Pita bread is great to have on hand for a quick lunch or dinner since it can be stuffed with just about anything you have in the fridge. Throw in whatever fresh produce you have on hand, leftover grilled meat and top it all off with a delicious sauce. Leftover Bolognese sauce, an Italian tomato-meat sauce, makes the perfect addition to this pita bread salad sandwich.
Pita bread salad sandwich with Bolognese sauce recipe
Serves 2
Ingredients:
2 pita bread pockets
Bolognese sauce (meaty tomato sauce), recipe follows
Fresh or canned corn
Cherry tomatoes, quartered
Red onion, thinly sliced
Mixed greens
Directions:
Pat pita bread with wet fingers to slightly moisten and toast quickly to warm up.
Carefully slit bread open on one side to create an opening in the pocket.
Fill with sauce, cherry tomatoes, onion, mixed greens and corn, as desired.
Bolognese sauce recipe (meaty tomato sauce)
Serves 2
Ingredients:
3-1/2 ounces ground veal or beef
3-1/2 ounces ground pork
1/2 cup tomato paste
4 ounces Marsala wine
4 ounces water
1/2 cup tomato puree
1/2 carrot, finely chopped
1/2 yellow onion, finely chopped
1 clove garlic, crushed
Olive oil
Salt
Pepper
Directions:
Whisk together tomato paste, Marsala and water in a bowl. Set aside.
Saute garlic in a pan with a drizzle of olive oil. When it turns brown, discard. Add chopped onion and carrot and saute for about 3 minutes, then add meat.
When meat is brown, pour tomato paste mixture and tomato puree into pan. Cover and simmer on low for 1 hour, stirring occasionally. If the sauce seems dry, add hot water as needed.
Season with salt and pepper.
More Daily Flavor
Bruschetta with tomatoes and basil
Farro and bean soup
Thai chicken with fresh basil