Thai food at home
Fresh basil is the star of this Thai chicken dish that comes together in minutes.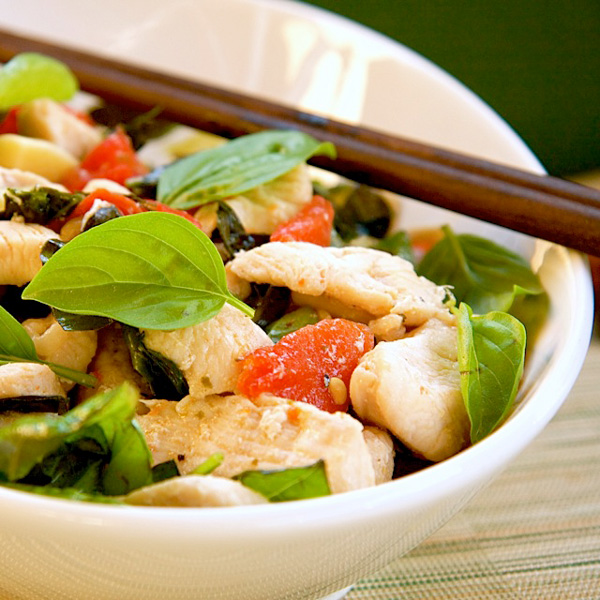 When you don't feel like leaving the house for take-out, it's always good to have a few recipes in your arsenal to satisfy that craving. This Thai chicken dish, loaded with fresh flavors, will be your new go-to quick and easy dinner.
Thai chicken with basil recipe
Adapted from Food & Wine
Serves 4
Ingredients:
1 pound boneless, skinless chicken breasts, cut into strips
2 tablespoons fish sauce
2 tablespoons soy sauce
2 teaspoons sugar
1 tablespoon water
1-1/2 cups basil leaves
1/2 onion, sliced thinly
2 cloves garlic, halved
1 red bell pepper, sliced
Olive oil
Salt
Directions:
Combine fish sauce, soy sauce, sugar and water in a bowl. Add chicken.
In a nonstick pan, heat a drizzle of olive oil over medium-high heat. Add onions and bell pepper and cook for about 5 minutes or until starting to soften. Add the garlic, cooking until it starts to brown.
Add the chicken, leaving the marinade in the bowl. Cook, stirring occasionally, until chicken is cooked through.
Add the marinade to the pan and cook another 1-2 minutes. Season with salt, if needed.
Remove from heat and stir 1 cup of basil into hot chicken.
Top with remaining 1/2 cup of basil just before serving.
More Daily Flavor
Chorizo and potato soft tacos with homemade salsa
Curried chicken salad
Grilled skirt steak with Thai red chili sauce and Thai basil