An apple a day…
Abide by that old saying and keep the doctor away, even if those apples you're eating are deep-fried fritters.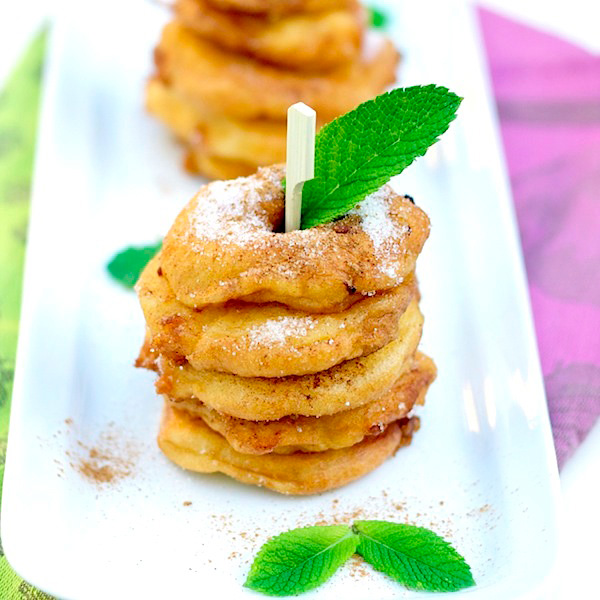 Turn apple slices into dessert by deep-frying them in batter and sprinkling them with cinnamon and sugar. You won't be able to eat just one!
Apple fritters recipe
Serves 4
Ingredients:
3 golden delicious apples
1/2 cup plus 2 tablespoons flour
3/4 cup milk
Pinch of salt
2 eggs, separated
1-1/2 tablespoons sugar, plus more for coating apples
1/4 teaspoon vanilla extract
Cinnamon
Vegetable oil
Directions:
Whisk egg yolks, milk, salt, vanilla and flour together in a bowl. Whisk until batter is smooth. Cover and let rest for 30 minutes.
In another bowl, whisk egg whites and 1-1/2 tablespoons sugar until stiff. Fold egg white mixture into the egg yolk mixture.
Peel and core apples. Slice apples thickly, about 3-4 slices per apple depending on size. Coat both sides of apple slices with sugar.
Heat several inches of oil in a saucepan over high heat. When the oil is hot (about 350 degrees F), dip apple slices in the batter and drop them in the oil. Don't overcrowd the saucepan and make sure they don't stick to each other. Deep fry apple slices until golden brown.
Transfer fritters to a plate covered with paper towels to absorb excess oil. Sprinkle with sugar and cinnamon. Serve hot.
More Daily Flavor
Glazed lemon poppy seed muffins
Very vanilla cupcakes with buttercream frosting
Cornflake chocolate chip marshmallow cookies