Flavor overload
Looking for a simple but flavorful pasta dish? This recipe combines tomatoes, pancetta and asparagus for a combination you won't forget.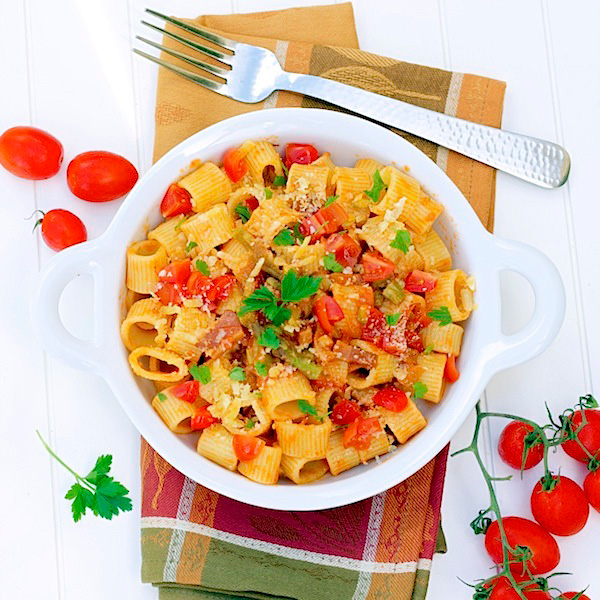 When you're craving a hearty meal, pasta always hits the spot, especially when it's full of huge flavors. You'll go back to this recipe again and again.
Pasta with asparagus, pancetta and tomatoes recipe
Serves 4
Ingredients:
16 ounces short-cut pasta
10 ounces asparagus, cut into inch-long pieces, tips separated
6 ounces pancetta, cut into strips
15 ounces canned tomato puree
1 cup cherry tomatoes, quartered
1 clove garlic, crushed
Olive oil
Grated Pecorino romano
Parsley, chopped finely
Directions:
Bring a large pot of water to a boil. When it boils, add salt, then pasta. Cook according to package directions. Reserve cooking water for later use.
Meanwhile, saute garlic and pancetta in a large saucepan with a drizzle of olive oil. When the garlic turns golden, discard. When the pancetta is crispy, remove from saucepan and set aside, reserving grease.
Add the asparagus (reserving tips) to the grease in the saucepan. Cook for 5 minutes. Add asparagus tips. Cook for another 5 minutes.
Add tomato puree. Cook for about 30 minutes on medium-low. If sauce seems dry, ladle in a small amount of pasta water to achieve desired consistency.
Add cooked pasta to the sauce. Mix well, then remove from heat.
Add pancetta, fresh tomatoes, grated pecorino romano and parsley. Toss and serve.
More Daily Flavor
Spaghetti carbonara
Tagliatelle with chanterelle mushrooms
Sausage, cheese & sun-dried tomato pasta