A bowl full of flavor
Get ready to twist those wrists! Spaghetti carbonara may sound simple but with one bite, you'll be hooked.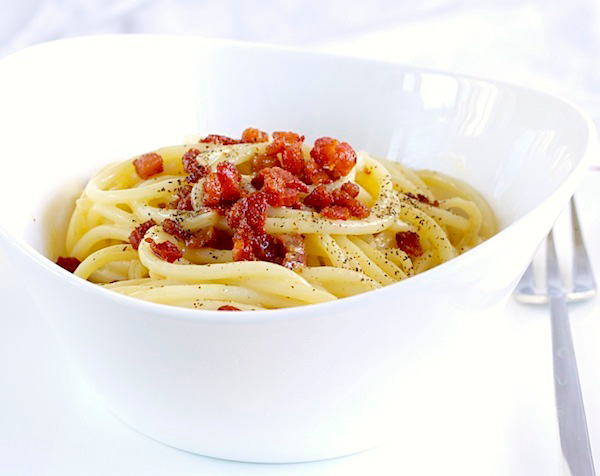 Although this classic pasta dish tastes creamy, you may be surprised to learn that authentic spaghetti carbonara contains no cream. Eggs and cheese actually create the sauce that is characteristic of this delicious Italian meal.
Spaghetti carbonara recipe
Serves 4
Ingredients:
16 ounces spaghetti
8 ounces pancetta, diced (substitute bacon if needed)
4 egg yolks
1 whole egg
3 ounces grated Pecorino romano
3 ounces grated Parmesan cheese
Black pepper
Directions:
Bring a large pot of water to a boil. Add pasta. Cook al dente, about 1-2 minutes less than the package directions.
In small bowl mix the egg yolks, egg, Pecorino romano and Parmesan cheese. Whisk well.
In a saucepan, cook diced pancetta until crisp. Remove from heat.
When pasta is done, transfer to a large bowl. Pour the egg and cheese mixture over pasta immediately. Add the pancetta with a small amount of its oil. Mix well. Season liberally with pepper.
Note: The eggs should be mixed with the pasta off the heat to avoid cooking the eggs too quickly. They will cook slowly from the heat of the pasta and remain creamy.
More Daily Flavor
Lasagna with béchamel and meat sauce
Tagliatelle with chanterelle mushrooms
Bruschetta with tomatoes and basil