Delicious
layered dessert
This light layered dessert of persimmons and yogurt flavored with Marsala wine and cookie crumbles makes the perfect end to a meal.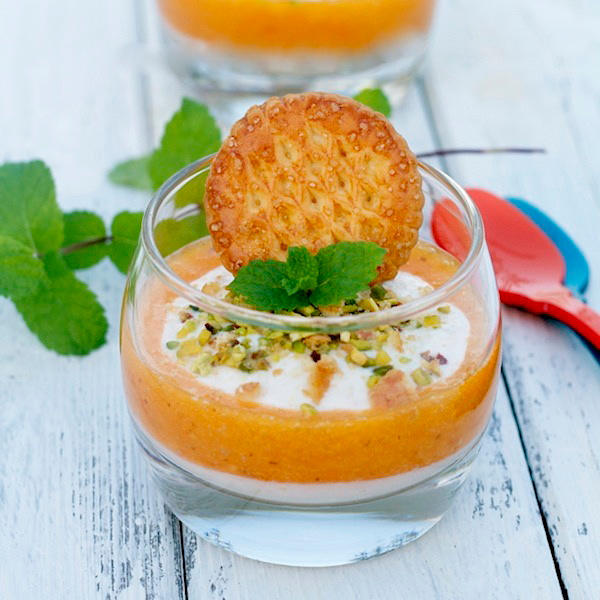 Want to feel good about eating dessert? Persimmons are rich in vitamins A and C, beta-carotene and potassium, so go ahead — indulge in this beautiful parfait full of seasonal fruit.
Persimmon and yogurt parfait recipe
Serves 2
Ingredients:
2 medium persimmons
5 ounces plain Greek yogurt
1 tablespoon powdered sugar
1 tablespoon Marsala wine
About 12 plain wafer cookies (use a size that fits inside the glasses)
Chopped pistachios
Fresh mint leaves
Directions:
Crush 2-3 cookies coarsely using your hands. In a bowl, mix the crushed cookies with sugar, Marsala and yogurt. Refrigerate for about 10 minutes.
Peel persimmons. Puree the pulp of the persimmon until creamy. Set aside.
Divide about half of the yogurt mixture between the 2 glasses. Put a whole cookie on top. Divide persimmon pulp into glasses on top of the cookies. Follow with another whole cookie, then spoon remaining yogurt mixture on top.
Garnish with a whole cookie, mint leaves, crushed cookie and pistachios. Serve cold.
More Daily Flavor
Glazed lemon poppy seed muffins
Chocolate-filled banana cupcakes
Apricot shortbread sandwich cookies