Say it in Italian:
Zuppa di farro e fagioli!
Farro and bean soup sounds good, but it sounds even more delicious in Italian: Zuppa di farro e fagioli. Make this Italian-style soup for dinner tonight.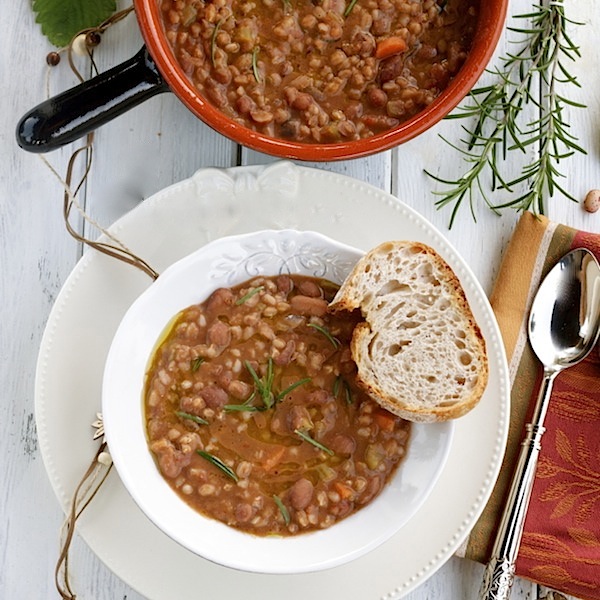 Winter is here and nothing hits the spot better than a hearty bowl of hot soup. This rustic Italian farro and bean soup flavored with fresh rosemary and tomato puree will warm you up on a cold day.
Farro and bean soup recipe
Serves 4
Ingredients:
10 ounces cannellini or borlotti beans, soaked overnight and drained
7 ounces farro, soaked for about 2 hours and drained
7 ounces tomato puree
2 cloves garlic, roughly chopped
1 celery stalk, roughly chopped
1 carrot, roughly chopped
1 small red onion, roughly chopped
2 sprigs fresh rosemary
Salt
Pepper
Olive oil
Directions: 
Fill a saucepan with water to cover farro and salt water. Boil farro for 30 minutes. Drain and set aside.
In another saucepan, cover beans with water and boil with 1 sprig of rosemary, 1 clove garlic, a drizzle of olive oil, salt and pepper until tender, about 1 hour. Remove rosemary sprig and discard. Remove about half the cooked beans and puree until creamy. Reserve whole beans and cooking water. Set aside.
In a third saucepan, saute celery, carrot, onion and remaining garlic in a drizzle of olive oil over medium-high. After about 10 minutes, add tomato puree and remaining rosemary. Reduce heat to low. Add the pureed and whole beans. Ladle some of the water from the beans in to achieve a creamy and soupy consistency. Simmer soup for about 20 minutes, adding more water if needed. Add cooked farro. Season with salt and pepper.
Before serving, drizzle with olive oil.
More Daily Flavor
Hearty vegetable chowder
Barley salad with chickpeas, fava beans and peas
Slow-roasted tomatoes