Fresh and flavorful
This salad with peas and fava beans is simple and fresh, but the barley and chickpeas make it hearty enough to eat as a light lunch.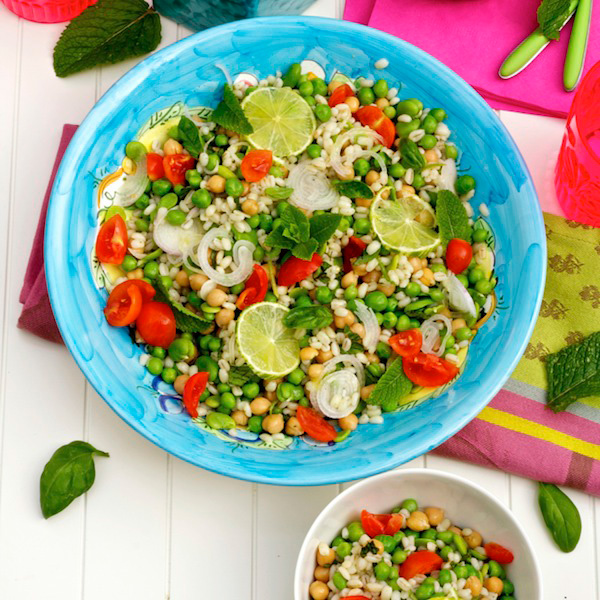 When a huge meal just doesn't appeal to you, try a hearty salad instead. Full of fresh vegetables and bright flavors, this salad will fill you up without leaving you feeling overly full.
Barley salad with chickpeas, fava beans and peas recipe
Serves 4
Ingredients:
7 ounces pearl barley
7 ounces chickpeas (about half a can), rinsed and drained
8 ounces shelled peas
About 2 pounds fava beans in pods
1/2 red onion, sliced very thinly
1 cup cherry tomatoes, seeded and quartered
Handful of fresh mint leaves, chopped
Handful of fresh basil leaves, chopped
1/2-1 lemon
1/4 cup olive oil
Salt
Pepper
Directions:
Fill 3 saucepans with water.
In 1 saucepan, add pearl barley, season with salt and bring to a boil. Once boiling, simmer on low for 20 minutes or until tender. When cooked, rinse under tap, drain and set aside.
Bring the remaining 2 saucepans to a boil. Add salt to water once boiling. In 1 saucepan, add peas. In the other saucepan, add fava beans. Cook the peas for 10 minutes and the fava beans for 5 minutes.
When the fava beans are cooked, let cool until you can handle them, then slide the skin away from the inner bean. Reserve beans. When the peas are cooked, rinse with cold water and drain.
In a large bowl, mix fava beans, peas, barley, tomatoes, chickpeas, onion, mint and basil.
In a small bowl, mix olive oil with the juice of 1/2 a lemon. Season with salt and pepper. Add extra lemon juice, to taste. Pour dressing over salad and toss well.
More Daily Flavor
Mushroom farro salad
Cauliflower salad with homemade vinaigrette
Hearty vegetable chowder