A Seasonal
Gourmet Recipe
Chestnuts make a perfect creamy sauce for red meat!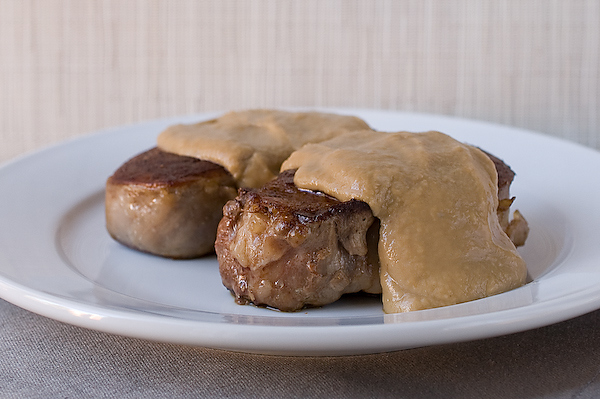 This chestnut cream sauce has a rich, meaty flavor that also pairs well with pork.
Filet mignon with chestnut cream sauce recipe
Serves 6
Ingredients:
3 tablespoons olive oil, divided
1 shallot, diced
1/2 carrot, diced
1 stalk celery, diced
1 clove garlic
1/2 pound chestnuts, roasted and peeled
1/4 cup red wine
1 cup chicken stock
1/4 cup heavy cream, plus more as needed
6 filet mignons
Salt and pepper
Directions:
In a saucepan, heat 1 tablespoon of olive oil and sweat the shallots, celery, carrots and garlic until tender. Add the chestnuts and deglaze the pan with red wine.
Add the chicken stock and allow the sauce to simmer, covered, for 15 minutes.
Puree the ingredients in a blender and return to the pan. Stir in the heavy cream and add more as needed to reach the desired sauce consistency. Season with salt and pepper.
Preheat the oven to 350 degrees F. In a large skillet, heat 2 tablespoons of olive oil over medium-high heat. Season both sides of the filets with a generous amount of salt and pepper. When the oil is shimmering, sear both sides of the meat. Once seared, place the pan in the oven and finish cooking the steaks until they reach the desired level of doneness.
Serve with the sauce.
More steak recipes
Steak and pesto
Philly cheese steak sandwich
Brown sugar steak