Easy but impressive!
This quick-and-easy pasta dish can be whipped up after a busy day but is impressive enough to serve dinner guests.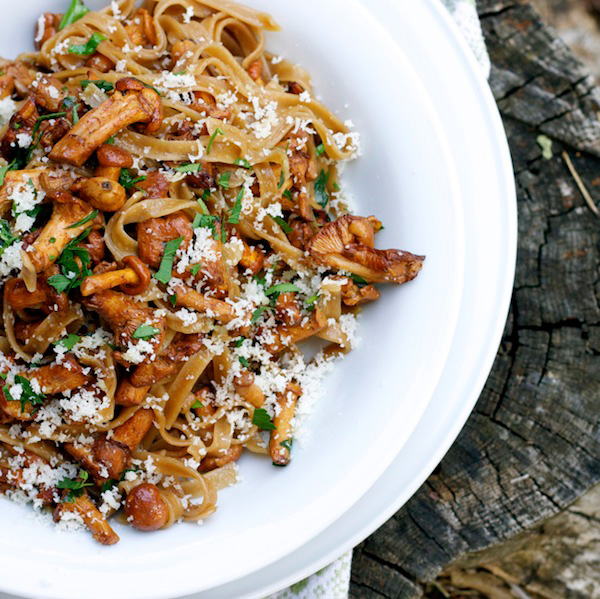 Tagliatelle ai funghi (tagliatelle with mushrooms) is a common pasta dish in certain areas of Italy because of the abundance of mushrooms. Its simplicity makes it an easy dish to prepare but you'd never guess you didn't spend all day in the kitchen based on the flavors.
Tagliatelle with chanterelle mushrooms recipe
Serves 4
Ingredients:
12 ounces tagliatelle (or similar flat pasta, like fettuccine)
8 ounces chanterelle mushrooms
2 cloves garlic, crushed
4 ounces white wine
Handful of parsley, finely chopped
Salt
Pepper
Olive oil
Parmesan cheese, grated
Directions:
Rinse mushrooms under the faucet then soak in water for 30 minutes. Drain and discard water.
Boil water for pasta. When it boils, add salt to the water, then add tagliatelle and cook according to package directions.
Meanwhile, add a drizzle of olive oil to a pan and saute garlic in a over medium-high heat. When garlic starts to color, add mushrooms and toss to coat. When the liquid from the mushrooms is starting to evaporate, about 10 minutes, pour in wine. Let alcohol evaporate for about 5 minutes then season with salt and pepper, to taste.
When pan is starting to get dry, reduce heat to low. Cook for another 5 minutes, then sprinkle with parsley. Turn off heat.
Mix cooked tagliatelle with the mushroom mixture. Sprinkle with grated cheese before serving.
More Daily Flavor
Brownie cookies with salted caramel filling
Easy barbecue chicken sliders
Cauliflower steak and puree