Layers of flavor
In need of a hearty and comforting pasta dish for a cold night? This lasagna with meat sauce will warm you up in a hurry.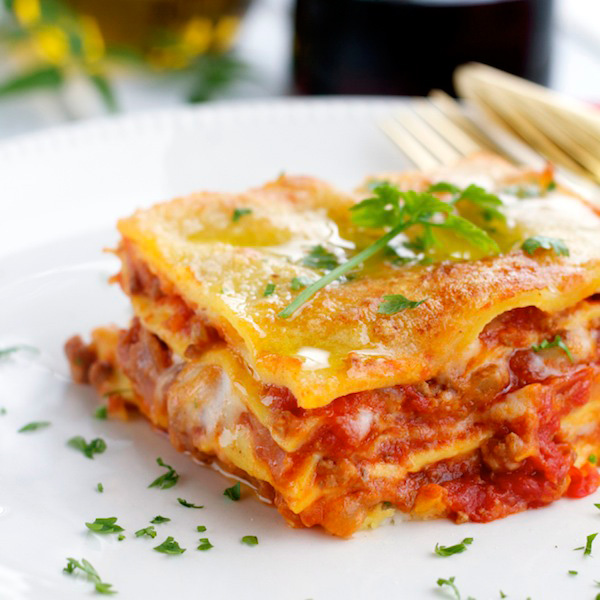 Lasagna is a classic Italian dish that might take a little time to prepare but is more than worth the effort. The pasta seems to melt in your mouth and the combination of sauces and cheese is purely delectable.
Lasagna with bechamel and meat sauce recipe
Serves 4-6 
Meat sauce
Ingredients:
8 ounces ground beef
8 ounces ground pork
9 ounces tomato paste
8-1/2 ounces Marsala wine
8-1/2 ounces water
8 ounces tomato puree or diced tomatoes
1 carrot, finely chopped
1 clove garlic, crushed
1 yellow onion, finely chopped
Olive oil
Salt
Pepper
Directions:
Mix the tomato paste, Marsala and water in a bowl. Set aside.
Saute garlic in a pan with olive oil. When it turns golden, discard. Add chopped onion and carrot. Add meat after about 3 minutes.
When meat browns, pour tomato paste mixture and tomato puree into pan. Cover. Simmer for an hour on low fire. Stir occasionally. If the sauce is too dry, add hot water. Season with salt and pepper to taste.
Bechamel
Ingredients:
3 ounces butter
3 ounces flour
3 cups milk
Whole nutmeg, grated
Salt
Pepper
Directions:
Melt butter in a saucepan. Stir in flour with a whisk until thickened. Add milk and keep whisking over a very low heat.
Add grated nutmeg, salt and pepper according to taste. Remove from heat when the mixture becomes thick.
Lasagna
Ingredients:
1 package fresh or dry lasagna noodles (see tip)
Butter
Bechamel
Meat sauce
5 ounces grated Parmesan cheese
Directions:
Preheat oven to 350 degrees F.
Butter a baking dish (about 8 x 8-inches).
Spread a thin layer of bechamel on the bottom of the dish. Layer lasagna noodles to cover the bottom, then spread with a layer of meat sauce, another layer of bechamel and sprinkle with cheese. Repeat to make 4-5 layers, depending on your dish and amount of ingredients. End with lasagna noodles, topped with a thin layer of bechamel and a sprinkle of cheese.
Scatter some diced butter over the dish.
Bake for 30 minutes or until top part is golden. Let it cool for at least 10 minutes before serving.
Tip
Use as many lasagna noodles as you need to fit your baking dish. If using fresh pasta, cut to the size of the baking dish. If using dry pasta, first soften in salted boiling water then dry with a clean towel before using. Cut to size once cooked.
More Daily Flavor
Slow-roasted tomatoes
Branzino and fennel carpaccio
Hearty vegetable chowder