Light and fresh
This marinated raw fish appetizer with fennel and branzino, or European sea bass, is a light and fresh start to any meal.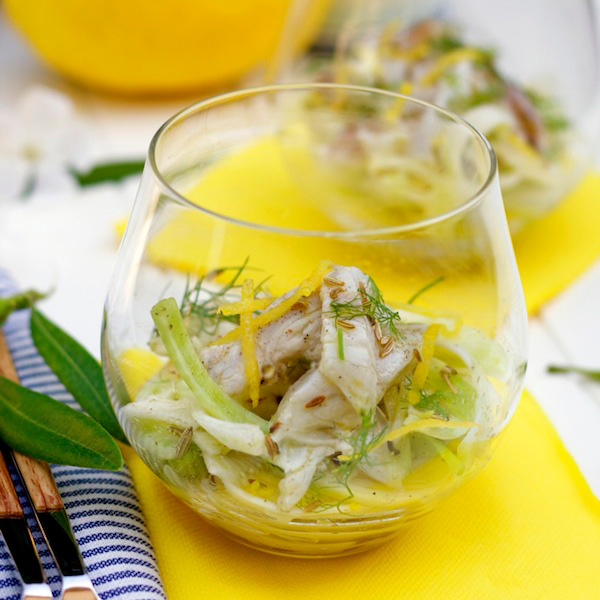 Impress your dinner guests with this stunning presentation that looks like it took hours to make. We won't tell how easy it really is!
Branzino and fennel carpaccio recipe
Serves 4
Ingredients:
1 branzino (or similar sea bass), filleted
2 lemons
1/2 teaspoon lemon zest
1 fennel bulb, thinly sliced
2 teaspoons salt
Pepper
1 tablespoon fennel seeds, plus extra for garnish
10 tablespoons olive oil, divided use, plus extra for drizzling
Directions:
Slice branzino fillet down the middle lengthwise, then slice diagonally to make thin strips. Slice as thinly as possible. Place in a nonreactive dish for marinating.
Prepare 2 small bowls. In one bowl, mix juice of 1/2 lemon, 3 tablespoons extra-virgin olive oil, 1/2 teaspoon salt and a dash of pepper. Repeat with the same quantities in the second bowl. One will serve as the marinade for the fish, and the other one will be used to serve with the fish.
Pour one bowl of marinade over the branzino and let sit about 20 minutes, turning occasionally so that all the strips can absorb the marinade.
Meanwhile, in another bowl, mix juice of 1/2 to 1 lemon (adjust amount according to your taste), 1 teaspoon salt, a dash of pepper, about 4 tablespoons extra-virgin olive oil and a tablespoon of fennel seeds. Pour mixture on fennel and mix well. Set aside.
Drain branzino well. Discard marinade. Pour the second bowl of lemon mixture over the fish.
To serve, spoon some fennel into a glass (or onto a plate). Top with marinated fish. Sprinkle with fennel seeds and drizzle with extra-virgin olive oil.
Chill for at least half an hour in the fridge. Serve cold.
More Daily Flavor
Simple roasted chicken
Hearty vegetable chowder
Oven-baked eggplant fries