A simple Italian dinner
Sometimes simple is best when it comes to dinner. This pasta dish is easy to make but has huge flavor from sausage, sun-dried tomatoes, fennel and aged cheese.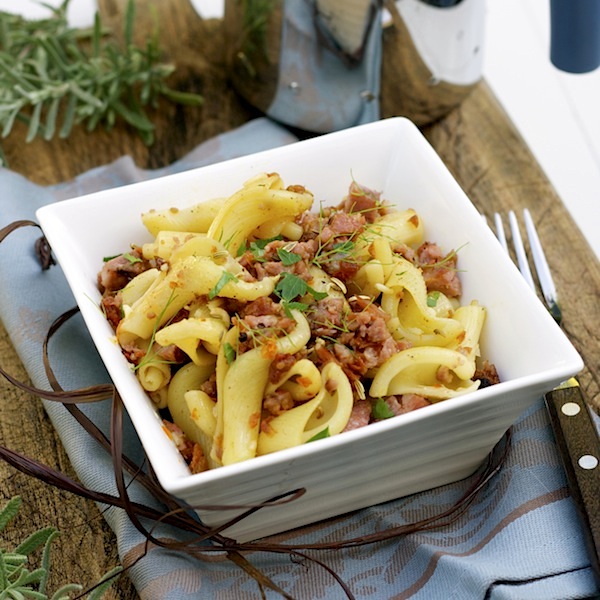 A quick and easy recipe that can be whipped up in no time is essential for busy nights. Change things up by using different flavors of sausage and whatever aged cheese you have on hand.
Sausage, cheese & sun-dried tomato pasta recipe
Serves 4
Ingredients:
12 ounces short pasta (like campanelle or fusilli)
3 sausages
1/2 cup grated cheese (like aged cheddar or Gruyere)
1 teaspoon fennel seeds
1 tablespoon finely chopped sun-dried tomatoes
4 - 6 tablespoons extra-virgin olive oil
Salt
Pepper
Directions:
Boil a large pot of water for the pasta. When the water boils, liberally salt water, then add the pasta. Cook until al dente, according to package directions. Remove pasta from water, reserving water for later use.
Meanwhile, prepare the sausages. Poke holes in the sausages with the tip of a knife. Grill on a griddle until all sides are brown. Once cooked, chop into small pieces.
Transfer chopped sausages to a large bowl. Add sun-dried tomatoes, fennel seeds and cooked pasta. Mix together. If the pasta seems dry, ladle in a small amount of pasta water.
Drizzle pasta with extra-virgin olive oil until the pasta is coated well. Mix in the cheese. Season with salt and pepper, if needed.
More Daily Flavor
Zucchini parmigiana
Potato leek soup
Fried lobster ravioli with red pepper cream sauce