Quick, Easy And
Fun Holiday Dessert
'Tis the season to... be crafty with your food! There are so many fun ways you can add some festive flair to your recipes, including these super easy, kid-friendly ice cream cone Christmas trees! These delicious cones are as fun to make as they are to eat! Plus, a few of these easily takes care of your holiday centerpiece!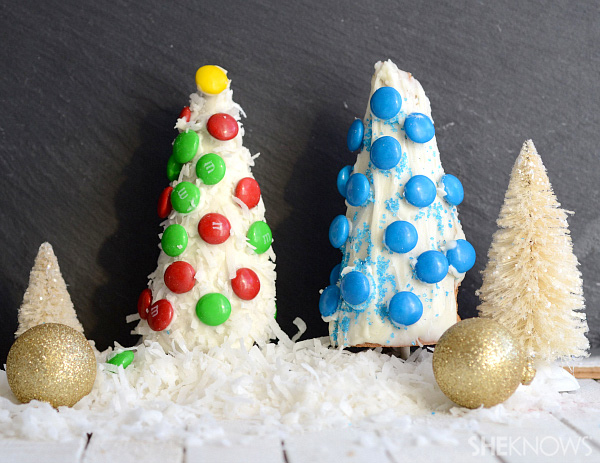 We love these trees because they can be decorated however you'd like! You can use whatever decorations you have on hand and any color of chocolate or candy melts you'd like! Customize these to fit the theme of your party for a fabulous edible that can double as decor.
Ice cream cone Christmas tree recipe
Recipe slightly adapted from Coupon Clipping Cook
Yields 6 trees
Ingredients: 
6 waffle cones
1/3 cup sugar cookie dough (we used this recipe)
1/4 cup plus 9 teaspoons milk chocolate chips, divided use
1/4 cup white chocolate chips
M&M's
1/2 cup sweetened coconut flakes
Holiday-colored sprinkles
Lollipop sticks
Directions:
1
Fill cones with dough & bake
Put your cones tip side down into Mason jars (this will keep the dough from spilling out).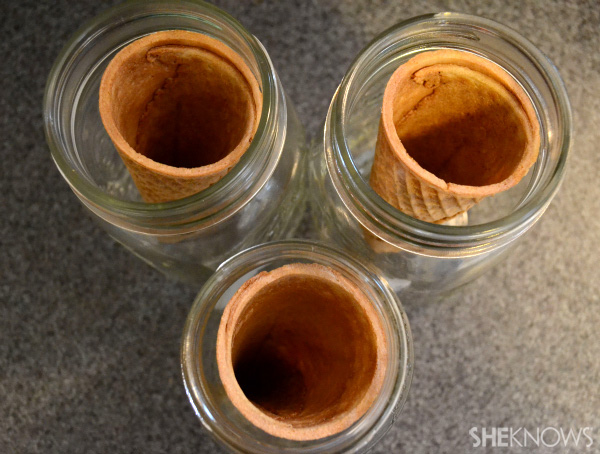 Carefully scoop about a tablespoon of dough into each cone, using your hand to push it into the stem.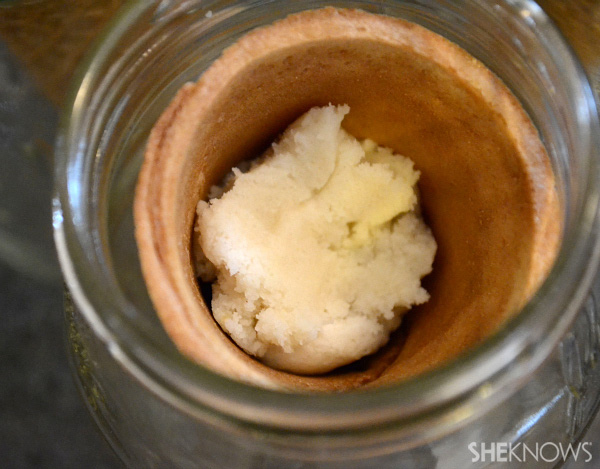 Place jars into a baking dish and bake for about 16 minutes or until cookies are slightly browned.
2
Fill with chocolate chips and freeze
Place about 1-1/2 teaspoons of milk chocolate chips into each cone over the cookies. Then, carefully insert a lollipop stick into the chocolate and cookie.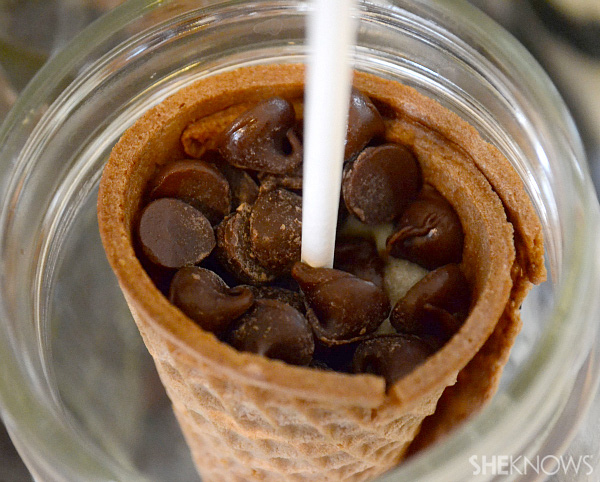 Immediately freeze for about an hour or until chocolate and cookie are set.
3
Cover with melted chocolate
Melt remaining milk chocolate chips and white chocolate chips separately. (Check out this tutorial on how to melt chocolate.) Hold each cone by the lollipop stick and coat in melted chocolate. We used a frosting knife to evenly distribute the chocolate.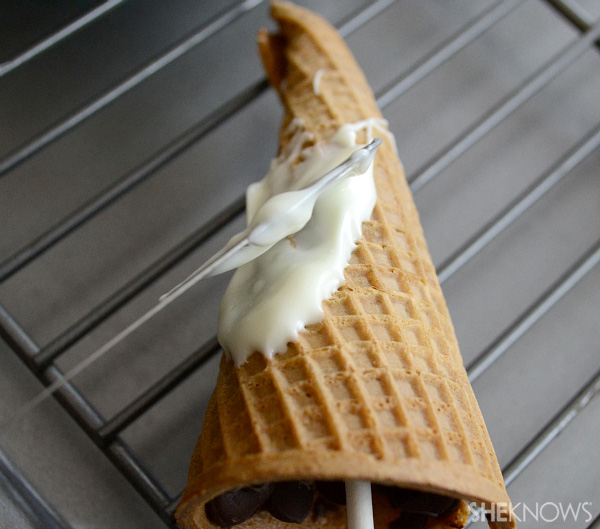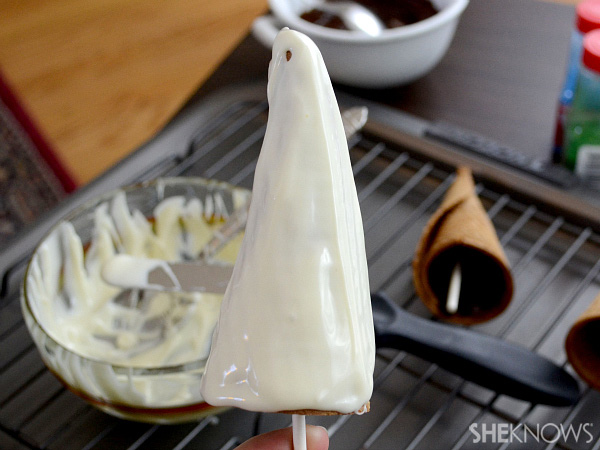 Place cones on a wire cooling rack to decorate. Don't worry if the backs get a little smudged, you can cover them with decorations!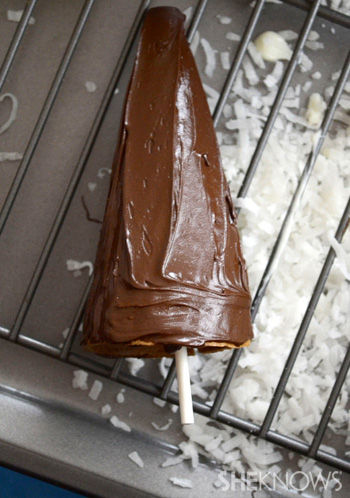 Decorate the cones, working quickly so the melted chocolate doesn't dry.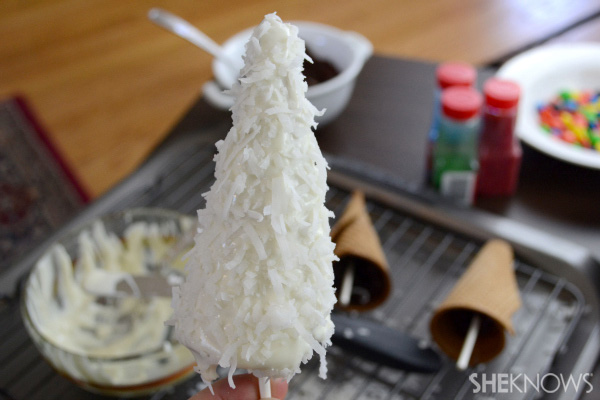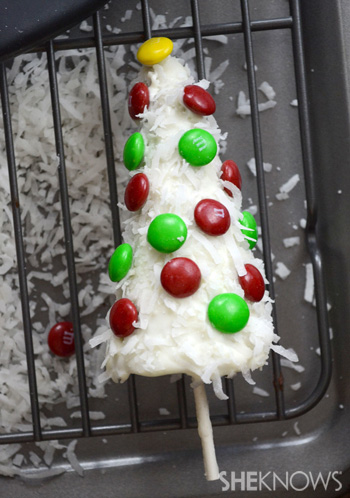 Then, place lollipop sticks into a piece of Styrofoam so they can cool upright completely.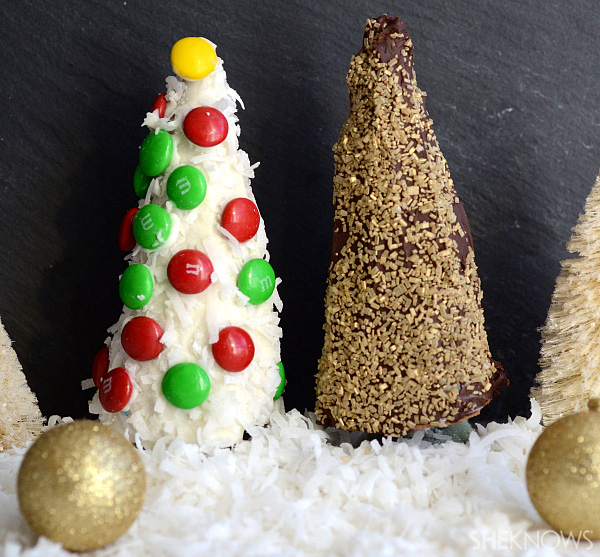 More holiday-inspired edible crafts
Edible Christmas crafts
Edible Christmas ornaments
Snowflake gingerbread tree