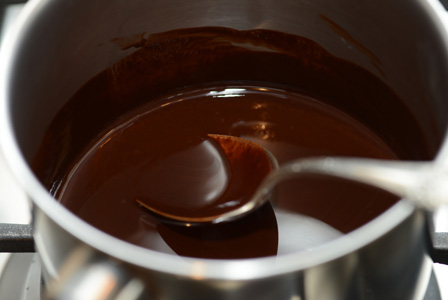 Overheated chocolate is thick, lumpy and definitely not ideal for baking (or eating!). Next time this happens, don't throw it out. Surprisingly, overheated chocolate can be salvaged.
Tips to saving chocolate
Melting chocolate can be tricky. It melts at a relatively low temperature and is extremely sensitive to high temperatures, like microwaves. Dark chocolate should never be heated to more than 120 degrees F, and milk and white chocolate should stay below 110 degrees F. Ideally, we want our chocolate to be smooth, silky and creamy. If you accidentally overheat your chocolate, giving it a muddy appearance, there are some ways to save it.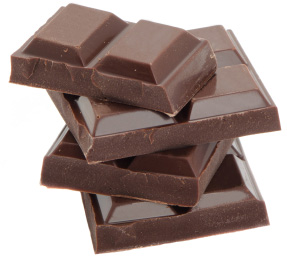 Cool it immediately
If you've overheated your chocolate, begin cooling it as quickly as possible. The longer it stays warm, the harder it's going to be to save. To cool the chocolate, remove from heat source and transfer to a cool, dry bowl. This immediately stops the melting process. Add in a few handfuls of chocolate chunks and stir. The coolness of the chunks helps cool the melted chocolate down quicker.
Run it through a sieve
A sieve is like a strainer — only it's more fine and used for sauces as opposed to pastas or noodles. After you've cooled the chocolate down, strain it through a sieve to get rid of any excess chunks. Consider adding a tablespoon or two of vegetable oil and mixing thoroughly, then straining again if the first time didn't fully solve the problem.
Use an immersion blender
An immersion blender is a hand-held blender that looks like a stick. The purpose is to blend the foods in the container that they're in, as opposed to transferring the ingredients to a regular blender. If you've cooled your chocolate and strained it through a sieve with no luck, take out the immersion blender and blend until smooth.
Tips to avoid overheating chocolate
Chop it up. Chocolate buttons are the best for melting purposes, but if you only have a regular bar of chocolate, break it up into smaller pieces before melting. This will help the chocolate melt evenly and quickly.
Avoid contact with water. When heating chocolate, make sure it does not come into contact with water or steam. This will cause it to seize — or become one gritty mass. Make sure all spoons and bowls are dry before adding chocolate.
Use small, heatproof bowls. Clear, glass bowls work great since they don't trap the heat. This prevents the chocolate from further cooking once it's melted.
Use a metal spoon or spatula. Never use a wooden spoon. Wooden spoons may contain moisture from previous use, which will cause the chocolate to seize. They also may contain odors from other foods that will spoil the chocolate. Make sure to stir the chocolate frequently as it melts.
More on chocolate
All about chocolate – buying, storing, melting, tempering and using
Best chocolates to use for after-dinner drinks
3 Healthy chocolate dessert recipes