Easy And Simple!
No need to sit around and roll buckeye balls. We took all the work out of making buckeyes and turned it into a bark! It's a delicious chocolate and peanut butter combination.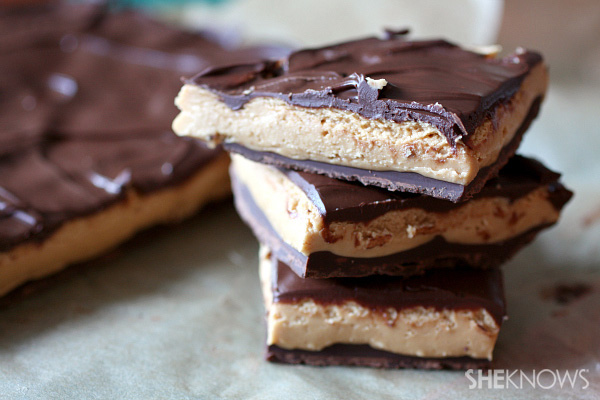 Is there anything more perfect for each other than peanut butter and chocolate? This delicious candy recipe is so simple that you could have this whipped up in under 30 minutes. That's right. All this could be yours in less than 30 minutes. If ever there was a recipe that needed to be made right away it's this one. Creamy sweet peanut butter sandwiched between rich semisweet chocolate. This stuff is too good to be true!
Buckeye bark recipe
Yields 9 x 13-inch pan
Ingredients:
1 stick unsalted butter
1 pound creamy peanut butter
2 cups powdered sugar
2 pounds semisweet morsels or chocolate candy coating
Directions:
Line a 9 x 13-inch pan with parchment paper and set aside until ready to use.
Melt butter and add to a bowl of an electric stand mixer. Add in peanut butter and mix to combine.
Slowly incorporate powdered sugar until everything is combined and you get a thick peanut butter mixture. It will remind you of really soft fudge and should hold together if rolled into a ball.
Melt 1-1/2 pounds of chocolate and spread into the bottom of the parchment-lined pan. Let cool and harden and then press peanut butter butter mixture evenly on top of the chocolate.
Melt remaining chocolate, spread onto peanut butter, let harden, then cut into squares and enjoy!
Want more buckeye candy? Try these traditional buckeye balls >>
More peanut butter recipes
No-bake peanut butter pie recipe
Peanut butter ice cream cornucopias recipe
Peanut butter and jelly thumbprint cookies recipe