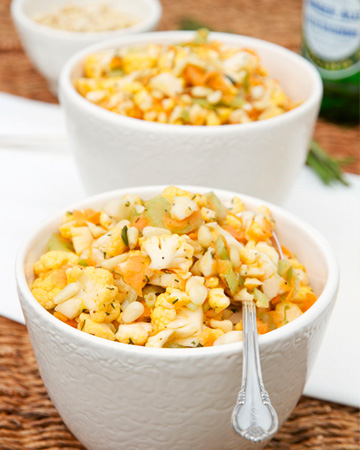 A simple & tasty salad
This easy side dish is a perfect dinner accompaniment at any time of year.
Crunchy, fresh and acidic, this salad recipe brings a light touch to the calorie-laden holiday season.
Cauliflower salad with homemade vinaigrette
Recipe from Bonnie Stern
Ingredients:
Vegetables
1 small cauliflower, cut into small florets
2 carrots, grated
2 ribs celery, thinly sliced diagonally
3 tablespoons chopped fresh dill
3 green onions, finely chopped
2-1/2 tablespoons toasted pine nuts
2-1/2 tablespoons toasted sunflower seeds
Dressing
1/2 cup apple cider vinegar
1/4 cup sugar
3/4 teaspoon kosher salt
1/3 cup unrefined sunflower or canola oil
Kosher salt
Freshly ground black pepper
Directions:
In a large bowl, add the cauliflower, celery, carrots, green onions and dill.
In a medium saucepan, bring sugar, vinegar, salt and oil to a boil. Pour the hot dressing over the cauliflower mixture and toss well. Season with salt and pepper.
Allow the mixture to marinate in the refrigerator for two hours.
Sprinkle with roasted pine nuts and sunflower seeds before serving.
More cauliflower recipes
Cauliflower lemon salad
Cauliflower puree topped with crisp coconut chicken
Lentil, cilantro and chili salad with warm cauliflower florets