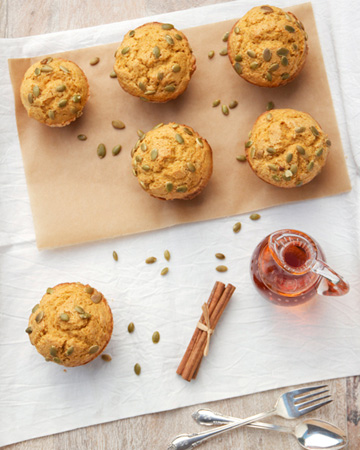 Heat one up for a warm breakfast
Sample these moist and delicious pumpkin muffins bursting with spices. They are perfect for Sunday breakfast or even dessert.
Pumpkin muffins
Recipe adapted from Sarabeth's Bakery
Makes 12-14 muffins
Ingredients:
Softened unsalted butter, for the pan
3-2/3 cups pastry flour, sifted
1 tablespoon plus 1 teaspoon baking powder
1 teaspoon ground cinnamon
1/4 teaspoon ground ginger
1/4 teaspoon fine sea salt
8 tablespoons (1 stick) unsalted butter, room temperature
1-1/3 cups superfine sugar
4 large eggs, at room temperature, beaten
1 (15 ounce) can solid-pack pumpkin
1 cup seedless raisins (optional)
1/4 cup maple syrup
1/4 cup hulled unsalted pumpkin seeds
Directions:
Preheat oven to 400 degrees F. Butter the insides of 12 to 14 muffin cups, then brush the top of the pan with softened butter.
In a medium bowl, sift the flour, baking powder, cinnamon, ginger and salt together.
In a standing mixer, beat the butter on high until creamy, about 1 minute.
Gradually beat in the sugar and continue beating until the mixture is pale in color and texture, about 5 minutes.
Gradually beat in the eggs. Reduce to low.
Beat in the pumpkin.
Beat in the flour mixture in thirds, scraping down the sides of the bowl. Mix until smooth.
Add the raisins. Increase the speed to high and beat for another 15 seconds, no longer.
Using an ice cream scoop, portion the batter, round side up, into the prepared pans. Brush the tops with maple syrup and sprinkle with pumpkin seeds.
Bake for 10 minutes. Reduce the oven temperature to 375 degrees F and continue baking until the tops of the muffins are golden brown and a knife comes out clean, about 15 minutes more.
Allow to cool for 10 minutes. Remove the muffins from the pan and cool completely.
More pumpkin recipes
Pumpkin spice latte
3 Non-pie Thanksgiving pumpkin desserts
Giant pumpkin cinnamon roll cake recipe