Chocolate
Brownie Cookies
One of these cookies is basically two brownies sandwiched between salted caramel. Decadent. Rich. Chocolaty.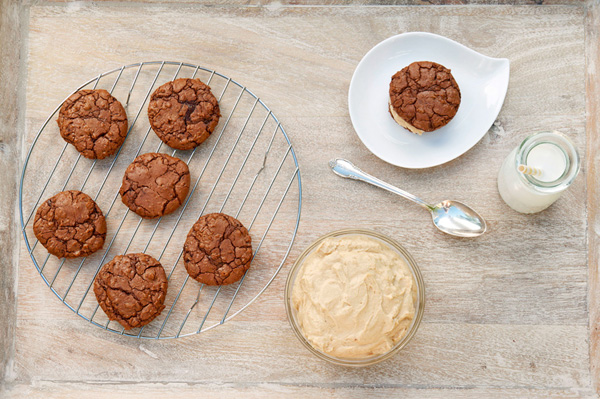 Even if you're a new baker, these cookies are quick and easy. You'll impress everyone with your baking skills!
Brownie cookie with salted caramel filling recipe
Recipe adapted from Donna Hay and Bakers Royal
Brownie cookie recipe
Ingredients:
1 (12-ounce) package semisweet chocolate chips or chunks
3 tablespoons unsalted butter
2 eggs, room temperature
2/3 cup granulated sugar
1 teaspoon vanilla extract
1/4 cup all-purpose flour, sifted
1/4 teaspoon baking powder, sifted
Directions:
Preheat oven to 350 degrees F. Line baking sheets with parchment paper.
Melt 7 ounces of the chocolate and the butter in a saucepan over low heat and stir gently until smooth. Set aside.
In the bowl of a stand mixer fitted with the paddle attachment, beat the eggs, sugar and vanilla for 15 minutes or until pale and creamy.
Mix in flour, baking powder, melted chocolate mixture, remaining 5 ounces of chocolate and mix to combine. Set aside and let stand for 10 minutes.
Spoon 2 tablespoons of the mixture for each cookie onto the prepared baking sheet.
Bake for about 8–10 minutes or until puffed and cracked. Allow to cool completely on trays.
Salted caramel filling recipe
Ingredients:
1 cup salted butter, room temperature
1 (8 ounce) package cream cheese, room temperature
1 cup caramel
1 teaspoon sea salt
Directions:
Place butter and cream cheese in a bowl and beat until creamed.
Add in the caramel and beat until well-incorporated.
Assembly
Spread a teaspoon and a half of salted caramel filling on the underside of one brownie cookie and sprinkle with sea salt.
Place the second brownie cookie on top of the salted caramel filling like a sandwich.
More chocolaty recipes
Creative ways to use chocolate for a romantic night
Chocolate-stuffed raspberries recipe
Fruit tacos with chocolate tortillas recipe