Chewy, crunchy chocolate chip cookies
Try this seriously decadent and delicious cookie this season. It's important to follow the recipe exactly and be sure to chill the cookies before baking so that they don't spread.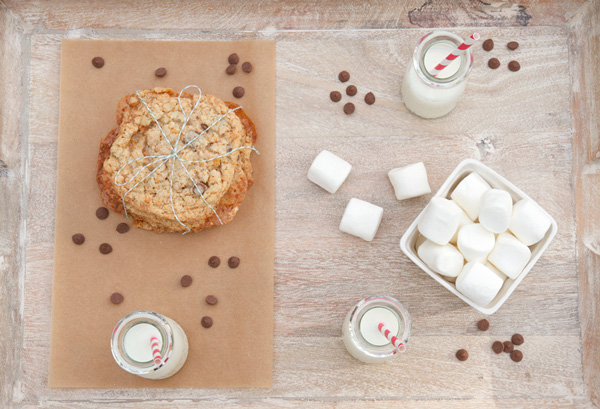 Cornflake crunch recipe
Ingredients:
5 cups cornflakes
1/2 cup milk powder
3 tablespoons sugar
1 teaspoon coarse salt
9 tablespoons melted butter
Directions:
Preheat oven to 275 degrees F. Line a baking sheet with parchment paper or a nonstick baking mat and set aside.
Add cornflakes to a medium bowl. Crush cornflakes with your hands, until they are one-quarter of their original size.
Add milk powder, sugar and salt to bowl and stir until well-mixed.
Add butter and toss to form small clusters.
Spread cornflake clusters in an even layer on prepared baking sheet. Bake until clusters are toasted, about 20 minutes. Remove from oven and let cool completely.
Momofuku's cornflake chocolate chip marshmallow cookie recipe
Recipe from Momofuku Milk Bar
Yields 15-20 cookies
Ingredients:
1 cup (2 sticks) unsalted butter, room temperature
1-1/4 cups granulated sugar
2/3 cup packed light-brown sugar
1 large egg
1/2 teaspoon pure vanilla extract
1-1/2 cups all-purpose flour
1-1/4 teaspoons coarse salt
1/2 teaspoon baking powder
1/4 teaspoon baking soda
3 cups cornflake crunch (recipe above)
2/3 cup mini chocolate chips
1-1/4 cups mini-marshmallows
Directions:
Preheat oven to 375 degrees F.
In an electric mixer fitted with the paddle attachment, cream together butter and both sugars on medium-high for 2-3 minutes. Scrape down sides of bowl and add egg and vanilla. Beat for 7-8 minutes.
Reduce speed to low and add flour, salt, baking powder and baking soda. Gently beat just until dough comes together, no longer than 1 minute.
With the mixer still on low, add the cornflake crunch and chocolate chips. Mix until combined, 30 to 45 seconds. Add mini-marshmallows and stir until well-mixed.
Line a baking sheet with parchment paper. Using a small ice-cream scoop or 1/3-cup measuring cup, portion dough out onto prepared baking sheet and pat flat.
Wrap baking sheet tightly with plastic wrap and refrigerate for at least 1 hour and up to 1 week. Don't bake cookies from room temperature, or they won't hold their shape.
Line additional baking sheets with parchment paper or nonstick baking mats. Arrange chilled dough at least 4 inches apart. Bake until the edges have browned, about 12-15 minutes. Let cool completely on baking sheets.
More marshmallow recipes
Five fun marshmallow yummies for kids
Holiday fluff: A gourmet marshmallow recipe
How to make homemade marshmallows