Heavenly vanilla
and buttercream
Who doesn't love a tasty cupcake? And not the kind you get from a bakery or grocery store. The kind with homemade buttercream frosting! It's light and airy rather than thick and heavy. This classic vanilla cupcake recipe topped with buttercream frosting melts in your mouth.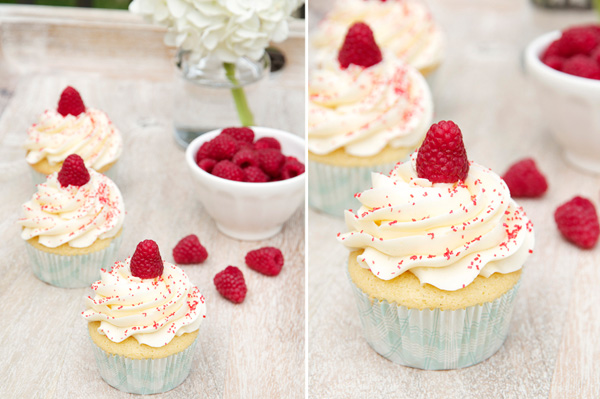 Vanilla and buttercream make the perfect holiday dessert. And these are pretty enough to impress a crowd!
Vanilla cupcake recipe
Recipe adapted from Good Life Eats
Yields 18 cupcakes

Ingredients:
1-1/4 cups all-purpose flour
1 cup cake flour
1 teaspoon baking powder
1/2 teaspoon baking soda
1/2 teaspoon kosher salt
1 stick (8 tablespoons) unsalted butter, at room temperature
1-1/3 cups sugar
1 cup sour cream
1/2 cup milk
4 large egg whites, room temperature
Seeds scraped from 1 vanilla bean
3 teaspoons pure vanilla extract
Directions:
Preheat the oven to 375 degrees F and fill cupcake tins with 18 cupcake liners.
In a bowl, stir together flours, baking powder, baking soda, and salt. Set aside.
In a different bowl, whisk together milk, sour cream, and egg whites. Set aside.
In a mixer fitted with a paddle attachment, beat the butter, sugar and vanilla bean seeds on medium for 5 minutes or until light and fluffy.
While beating on medium speed, add the vanilla extract and 1/3 of the flour mixture, scraping the sides and bottom of the bowl. Mix in half of the sour cream mixture. Alternate between adding the remaining flour mixture and sour cream mixtgure until all the wet and dry ingredients have been folded in, and batter is fully mixed (do not overbeat).
Evenly divide the batter between 18 cupcake tins, filled 2/3 of the way.
Bake for 18-20 minutes or until a knife comes out clean and the cupcakes are golden. Let cool before eating.
Watch as SheKnows Ultimate Hostess learns the secret to icing the perfect cupcake
Vanilla bean buttercream frosting recipe
Recipe adapted from Vintage Cakes by Julie Richardson
Ingredients:
6 egg whites
1-1/4 cups sugar
1/4 teaspoon cream of tartar
2 cups unsalted butter, room temperature, cut into small cubes
2 teaspoons pure vanilla extract
Seeds scraped from 1/2 vanilla bean
1/8 teaspoon fine sea salt
Directions:
Using a whisk, combine egg whites, sugar, and cream of tartar in a double boiler.
This mixture will be very thick but as it heats up, it will become easier to work with. Keep whisking in the double boiler until it reaches 130 degrees F.
Transfer the bowl of ingredients to the stand mixer. Apply the whisk attachment and whip the egg whites on a medium-high speed until they become stiff peaks, about 3-4 minutes.
Turn the mixer down to low, and beat until the bottom of the bowl is cool to the touch.
Then, bring the mixer back up to medium-high speed and add the cubed butter one piece at a time. Add the next piece just before the last one has been incorporated.
Scrape down the edges of the bowl when needed. It is normal for the buttercream to look curdled. Keep mixing until it is all combined.
When everything is mixed well, add the vanilla and the salt. The frosting should be very fluffy.
Cover with plastic wrap. The buttercream will last 2 days unrefrigerated or a week in the refrigerator. Just be sure to bring it to room temperature before use. The cream must then be re-whipped.
More cupcake recipes
Ice cream cone cupcakes recipe
Dark chocolate Guinness cupcake recipe
Blueberry lemon beer cupcake recipe