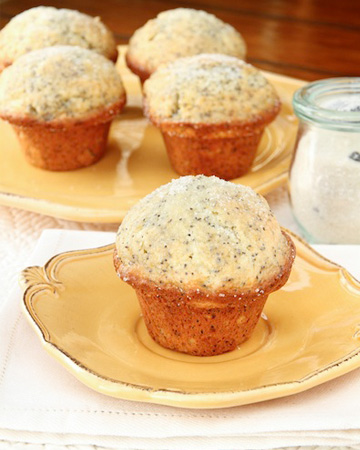 Light and lemony
Enjoy a glazed lemon poppy seed muffin for breakfast with a cup of coffee. It's like dessert for breakfast!
This recipe yields a moist and rich muffin that is more like cake and can serve as breakfast or dessert. Top with a sweet and tart lemon glaze for the perfect finishing touch.
Glazed lemon poppy seed muffin recipe
Recipe adapted from The Sweeter Side of Amy's Bread
Yields 12 large muffins
Ingredients:
1 cup (2 sticks) butter
1-1/2 cups + 1 tablespoon sugar
5 large eggs
1/3 cup poppy seeds
2 tablespoons lemon zest
2 tablespoons lemon juice
1 tablespoon almond extract
3-1/4 cups all-purpose flour
3/4 teaspoon baking soda
3/4 teaspoon baking powder
1/2 teaspoon salt
1-1/4 cups sour cream
Glaze recipe
Ingredients:
1/4 cup lemon juice
1/4 cup sugar
Directions:
Position one rack in the middle of the oven, and preheat the oven to 350 degrees F. Line 12 muffin cups with muffin papers.
In a stand mixer with the paddle attachment, cream the butter and sugar until light and fluffy, about 3 minutes. Add the eggs, one at a time, and mix until fully combined.
In a small bowl, combine the poppy seeds, lemon zest, lemon juice and almond extract. Add to the butter mixture and mix until well combined.
In a separate bowl, add the flour, baking soda, baking powder, salt and whisk together. Add half of the dry ingredients to the butter mixture and mix slowly until almost combined.
Add the sour cream, and mix until almost combined.
Add the remaining dry ingredients and mix just combined. Do not overmix the batter. Spoon the batter into the prepared muffin cups.
Bake for 16 minutes, rotating the pan from front to back halfway through. Check muffins by inserting a toothpick into the center. If it doesn't come out clean, bake for 3 to 5 more minutes, until toothpick comes out clean. Do not overbake!
While the muffins are baking, make the glaze. Combine the lemon juice and sugar in a small bowl. Whisk until smooth. Just as the muffins are removed from the oven, brush the lemon glaze generously over each one.
Allow the muffins to cool in the pan for 10 minutes, then remove them from the pan and place on a wire rack.
More muffin recipes
Easy carrot raisin muffins
Maple glazed apple cinnamon chip muffins
Fresh fruit muffin recipes