Steak for the vegetarian crowd
This striking and delicious dish is an elegant main course vegetarians are sure to love.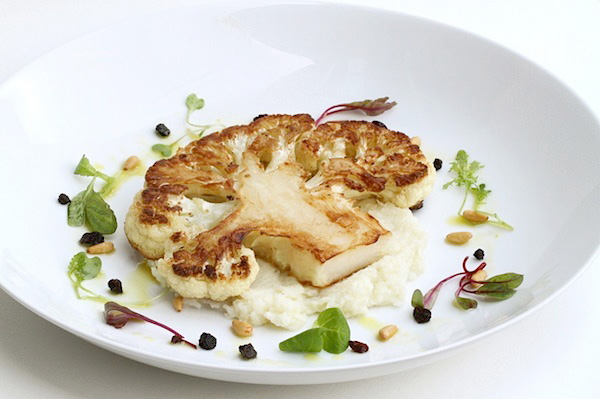 Looking for a meatless option for your vegetarian dinner guests? This cauliflower steak will satisfy even the biggest appetite and is full of flavor.
Cauliflower steak recipe
Recipe adapted from Bon Appetit — Dan Barber
Serves 8
Ingredients:
4 (1-1/2-pound) heads of cauliflower
8 tablespoons olive oil, plus additional for brushing
1/2 teaspoon cumin
Salt and pepper, to taste
Directions:
Preheat oven to 350 degrees F.
Cut each head of cauliflower into steaks. You should get about 2 steaks per head. Reserve remaining cauliflower for use in puree, below.
Heat 2 tablespoons olive oil in a large ovenproof pan over medium-high heat.
Brush cauliflower steaks with additional oil and sprinkle with cumin, salt and pepper. Add cauliflower steaks to hot pan and cook until brown, about 2 minutes per side.
Transfer pan to oven and bake cauliflower steaks until tender, about 10 minutes.
Cheesy cauliflower puree
Recipe adapted from Ricardo Larrivee
Makes 8 servings
Ingredients:
1 yellow onion, chopped
4 tablespoons butter
Reserved cauliflower, cut into pieces
4 cloves garlic, minced
3 cups heavy cream
2 ounces white cheddar cheese, grated
Salt and pepper, to taste
Directions:
In a large saucepan over medium heat, melt 2 tablespoons of butter. Saute onion until soft.
Add the cauliflower, garlic and heavy cream. Season with salt and pepper. Bring to a boil.
Cover and simmer until the cauliflower is tender, about 15 minutes.
Drain well, reserving the liquid.
In a blender, puree the cauliflower with remaining 2 tablespoons butter and about 1/4 cup of the cooking liquid. Add liquid as needed to adjust consistency.
Pour into a bowl and stir in grated cheese. Season with salt and pepper.
Mixed greens with Dijon mustard vinaigrette
Serves 8
Ingredients:
1 teaspoon Dijon mustard
2 tablespoons white wine vinegar
1/4 teaspoon cumin
1/4 teaspoon coriander
6 tablespoons olive oil
Salt and pepper, to taste
Mixed greens
Toasted pine nuts
Currants
Directions:
Combine mustard, vinegar, cumin, coriander, salt and pepper and in a small bowl.
Whisk in olive oil.
To assemble:
Toss mixed greens with vinaigrette.
Place a serving of cauliflower puree on a plate. Top with cauliflower steak.
Place dressed greens around edge of plate and sprinkle with pine nuts and currants.
More cauliflower recipes
3 Recipes to make the most of cauliflower
Oven-roasted curried cauliflower recipe
Meatless Monday: Sauteed cauliflower with olives and orange zest