Comfort food
for gloomy days
What is better than soup on a gloomy day? Nothing other than lots of hearty vegetables and piping hot chowder!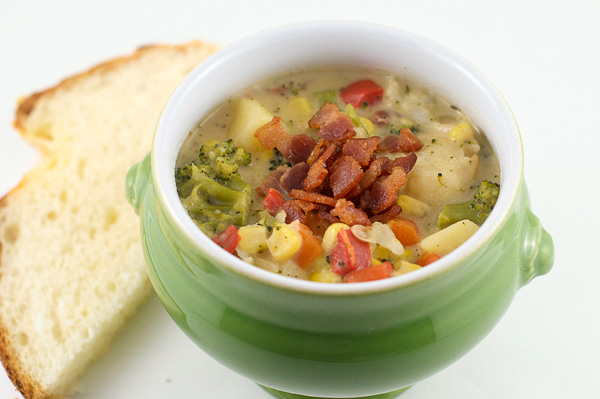 This recipe is pretty easy to make, but the key is to prepare all the vegetables beforehand. This chowder has the three token ingredients that every good chowder must have: bacon, milk and potatoes. It turned out creamy but still tasted fresh because of the addition of the vegetables and herbs.
Hearty vegetable chowder with bacon recipe
Recipe adapted from Anna Olson
Ingredients:
4 slices bacon, diced
1 cup onion, diced
1/2 cup carrot, diced
1 cup broccoli florets
2 cups cauliflower florets
1/2 cup red bell pepper, diced
2 tablespoons butter
3 tablespoons flour
2 cups chicken stock
2 cups 2% milk
1 cup frozen corn kernels
1 cup potatoes, peeled and diced
2 teaspoons fresh thyme
1-1/2 teaspoons dried oregano
1 bay leaf
Salt and pepper
Directions:
Cook bacon in a medium-sized pot until crisp. Remove from pot and set aside, leaving bacon fat in the pan.
Add onions and carrots and cook in bacon grease over medium heat until onions are tender.
Add broccoli, cauliflower and red bell pepper and continue cooking for 5 minutes. Remove vegetables from pot and set aside.
Melt 2 tablespoons of butter in the pot and add flour. Cook over medium heat, stirring constantly for 5 minutes.
Whisk in chicken stock slowly so that it doesn't get lumpy. Once the chicken stock is fully combined, slowly whisk in milk.
Toss the cooked vegetables back into the pot and add the potatoes, corn, thyme, oregano and bay leaf. Now bring to a simmer.
Cover the pot and cook for 20 more minutes or until potatoes are tender. Remove the bay leaf and add the cooked bacon, then season with salt and pepper.
More soup recipes
Low carb soup recipes for fall
How to make the best French onion soup
Tonight's dinner: Creamy pumpkin soup