Grilling Gifts
If grilling is your giftee's passion, give a gift to make it easier or more fun. Check out these holiday gift ideas for the grill master.
The grill master has the grill, but that doesn't mean they couldn't use some equipment and accessories.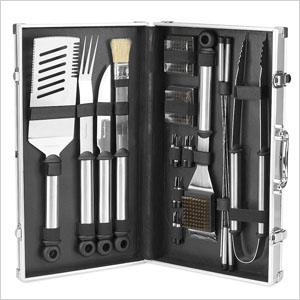 BBQ briefcase
Whether grilling in the backyard, at the park or on the beach, grill masters need the right tools. They can fire up a feast no matter where they are with this grill-side case of 20 stainless steel utensils. These cool tools have heat-resistant handles and are organized in a convenient traveling case. The BBQ briefcase (UncommonGoods, $84) includes everything from a marinating brush to kabob skewers to corn holders.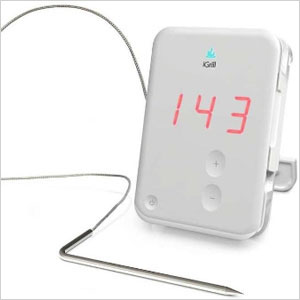 Digital grilling thermometer
Grill masters don't have to hover over the grill to make sure the meat is the desired temperature. With the iGrill Digital Thermometer (BBQ Guys, $80), they can use the iPod touch, iPhone or iPad in the kitchen (or anywhere else) to monitor the meat outside on the grill. With this thermometer, you can also download the iGrill app, which has a grocery list, recipes, grilling tips and more.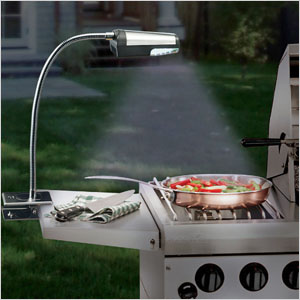 Cordless grill light
The grilling doesn't end when the sun goes down. With this cordless stainless steel grill light (HomeWetBar.com, $46), the grill master will be able to see what he's doing, no matter how dark it is. This light clamps easily to almost any surface and has an 18-inch flexible neck. The four LED bulbs last up to 500,000 hours and the 3 AA batteries are included.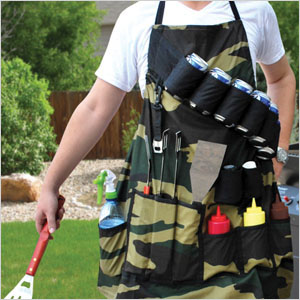 Grill sergeant apron
This cool grilling apron has pockets for all the necessities including three extra-large pockets for tools, four sauce pockets, an "artillery" belt that holds six beverage cans and much more. Created from 100 percent cotton, the camouflage grill sergeant apron (Perpetual Kid, $22) makes the perfect holiday gift for anyone who loves to grill.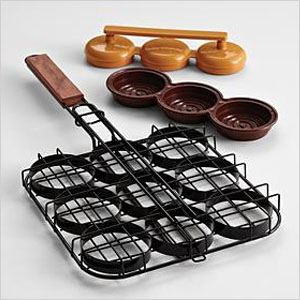 Sliders mini-burger set
Mini-burger sliders are perfect for appetizers (or for kids). The grill master can turn nine sliders with one flip with this mini-burger set (Red Envelope, $30). The set includes a triple burger press to create the perfect-size sliders, a bun cutter for slider buns and the nine-slider, non-stick grilling basket.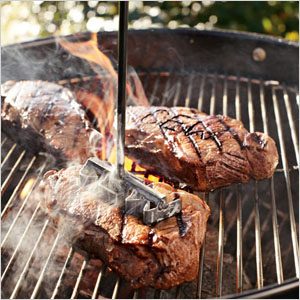 Monogrammed steak brand
For the backyard chefs who take great pride in their grilling work, this monogrammed, forged steak brand (Williams-Sonoma, $40) is a must. With this iron brand, they can sear their own initials into steaks, chops and other meats. This brand is like a mini version of the cattle brands used to identify livestock. Choose single, double or triple initials.
More holiday gift picks
Holiday gifts for the adventurous mom
Holiday gifts the whole family will love
Holiday gifts for the outdoorsy dad