Traditional
Hanukkah dessert
These are the perfect size dessert to indulge in after a filling Hanukkah meal. They would be an unexpected addition to your cookie exchange party, too!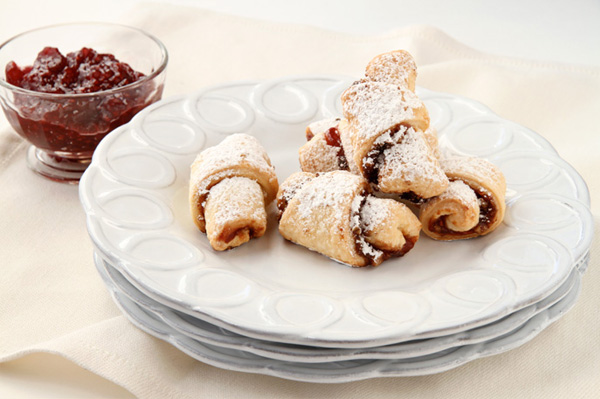 These cream cheese cookies are light, airy and filled with raspberry jam, cocoa powder, cinnamon and chopped walnuts.
Rugelach
Ingredients:
16 tablespoons (2 sticks) unsalted butter, at room temperature, cut into 1/2-inch cubes
8 ounces cream cheese, softened, cut into 1/2-inch cubes
2 tablespoons superfine sugar
1/2 teaspoon pure vanilla extract
1/8 teaspoon fine sea salt
2-1/4 cups unbleached all-purpose flour
Approximately 1/2 cup raspberry or apricot preserves
Confectioners' sugar, for serving
For the filling:
1/4 cup (1 ounce) finely chopped walnuts
1 tablespoon superfine sugar
1 tablespoon light brown sugar
1/2 teaspoon Dutch-processed cocoa powder
1/2 teaspoon ground cinnamon
Directions:
In a stand mixer fitted with the paddle attachment, beat the butter and cream cheese on medium-high speed until evenly combined, about 2 minutes. Add the superfine sugar, vanilla and salt, and reduce the speed to low. Add 1-1/4 cups of the flour and mix just until incorporated, then repeat with the remaining 1 cup of flour. Do not over mix.
Roll the dough out onto a lightly floured work surface. Flour your hands well and gently knead to be sure that the ingredients are evenly distributed, about 10 seconds. Divide the dough into thirds, and shape each portion into a 1-inch thick disk and wrap each in plastic wrap. Refrigerate until chilled and firm, about 2 hours.
To make the filling, combine the walnuts, superfine sugar, brown sugar, cocoa and cinnamon in a small bowl; set aside.
Position racks in the center and top third of the oven and preheat to 350 degrees F. Line two half-sheet pans with parchment paper.
Working with one disk of dough at a time, unwrap and place on a lightly-floured work surface. Sprinkle the top of the dough with flour, and roll out into a 13-inch diameter circle.
Use a small metal spatula to spread about 2 tablespoons of the preserves on top, leaving a 2-inch diameter space in the center of the dough and a 1-inch border around the edge.
Sprinkle the jam with about 2 tablespoons of the walnut mixture. Using a sharp pizza wheel or large knife, cut the dough into quarters, then cut each quarter into 3 wedges, to give a total of 12 wedges.
One at a time, starting at the wide end, fold the corners in about 1/4-inch and then roll up. Do not roll the rugelach too tightly or the jam and filling will ooze out. Keep the outside of each cookie free of the jam and filling or it'll burn.
Place each rugelach 1-inch apart on the pans, with the point of each facing down. Curve the ends of the rugelach slightly toward the point to make a crescent. Repeat this process with the other 2 disks of dough.
Bake until lightly browned, about 30 minutes. Cool completely on the pans.
More Hanukkah recipes
Hanukkah recipes that will delight
Apple cider latkes
Hanukkah menu and wine pairing