Latke is Yiddish
for pancake
This is a classic recipe for potato latkes. Whether served thick or thin, they'll turn out delicious. Serve them with homemade applesauce and sour cream.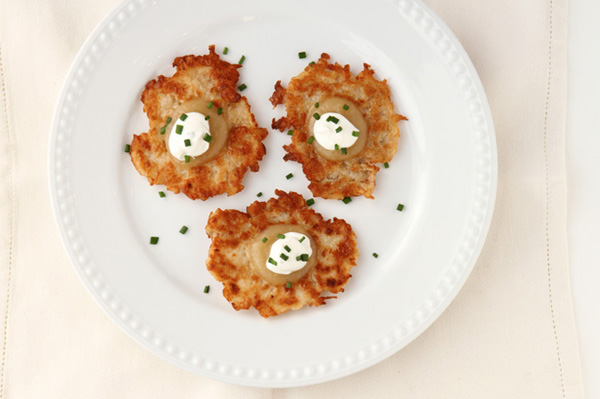 Jewish people living in the Pale of Settlement in the 17th century had a diet that consisted mainly of potatoes and bread. They created latkes as a special dish because they are cooked in oil, which symbolizes the miracle of Hanukkah. They can be served for breakfast, lunch, dinner or as an appetizer. They taste great plain but can be eaten with sugar, applesauce, sour cream or even chicken soup.
Potato latkes
Makes about 2 dozen
Ingredients:
10 medium russet potatoes
2 medium onions
2 large eggs
1/4 cup matzo meal
Salt and pepper
Grapeseed oil
Directions:
If the potato skin is coarse, peel the potatoes; otherwise, just wash them thoroughly. Keep them in cold water until ready to prepare the latkes.
Alternately grate some of the onions on the large holes of the grater and some of the potatoes on the smallest holes. This will keep the potato mixture from turning brown. Continue alternating until all the potatoes and onions are grated. Press out as much liquid as possible and reserve the starchy liquid at the bottom of the bowl. Return the sediment to the mixture.
In a bowl, combine the potato mixture, eggs, matzo meal, and salt and pepper to taste.
Heat 1 inch of oil in a frying pan. Drop about 1 tablespoon of mixture for each latke into the skillet and fry, turning once. When golden and crisp on both sides, place on paper towels to drain.
Note
If you'd like to freeze the latkes, place them on a cookie sheet, freeze and then place them in a plastic bag. When ready to serve, bake in a 450 degree F oven for several minutes.
More Hanukkah recipes
Rugelach recipe
Hanukkah recipes that will delight
Apple cider latkes