Would you serve a funeral pie?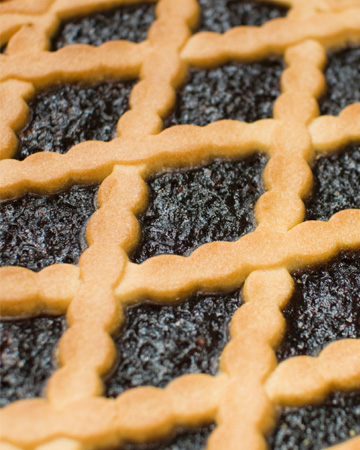 WeIrd pie
Nothing quite hits the spot like a giant slice of apple, pumpkin or cherry pie. As good as these pies are, why not add some variety to your boring dessert spread with, say, a pie made with beef fat, bacon or potatoes? Or maybe a shoofly or funeral pie is more to your taste?
Even though a pie made with beans or bacon makes us a little uneasy, we're not ones to judge something before we taste it. However, we are drawing the line at the "funeral" pie. We don't care how good it tastes.
You've heard of cherry, apple and strawberry pies, but what about grape? Many wine enthusiasts (and makers) use their pitted leftover wine grapes in pies instead of throwing them out! Wine grapes are typically much sweeter than regular grapes so they make a great fruit for a dessert pie.
Nothing like ending your day with a slab of bean pie, right? As unappetizing as this sounds, bean pies are actually quite sweet when made right. Many bakers use navy beans and pair them with evaporated milk, sugar, butter and spices like cinnamon so the end result is sweet, spicy and very hearty. If you want to attempt this, just be sure to puree the beans so you aren't left with chunks (for obvious reasons).
If there is one place green tomatoes do not belong, it's in a pie. However, leave it to the queen of deep-fried cooking, Paula Deen, to make a pie out of Crisco and green tomatoes. She paired the tart tomatoes with raisins and sugar to sweeten them up and baked them into a flaky pie crust. We don't know about you, but we'll keep our tomatoes in our salsas.
And the winner for the weirdest (and worst) name ever for a dessert goes to funeral pie. This pie (more appropriately named raisin pie) is commonly served at Amish funerals, hence the morbid and depressing nickname. Unless your family has a sick sense of humor, we'd suggest sticking to "raisin" pie when putting this one on your menu.
More strange food and drink flavors
Top 10 strangest liquor and beer flavors
Top 10 strangest foods from around the world
Unique food truck menu items