Easy Pie Made
In A Slow Cooker
There seems to be a big misconception out there that pies have to be made in a pie plate. We're here to squash that myth, just in time for Thanksgiving too! Who wants to spend all morning baking pies when you could be eating, drinking and vegging out? Instead of baking one in a pie dish, why not try making one in a slow cooker with this fabulous recipe?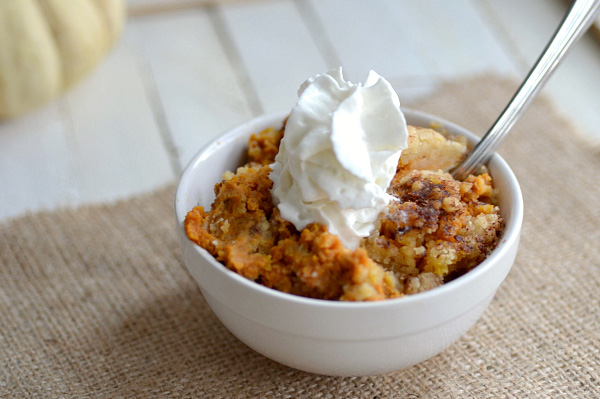 This is probably one of the easiest pies you'll ever make. Just dump your ingredients into a slow cooker, give em' a little stir and let the magic happen! The end result is a mix between traditional pie and custard with a perfect biscuit and crust-like topping. It's absolutely to die for. Plus you can eat it directly from the pot with a spoon, no plate required!
Slow cooker pumpkin pie
Recipe adapted from Food.com
Serves about 6
Ingredients:
15 ounces canned pumpkin puree
9 ounces evaporated milk
3 ounces spiced rum (we used Captain Morgan)
3/4 cup brown sugar
2/3 cup Bisquick, divided
2 eggs, lightly beaten
3 tablespoons butter
2 teaspoons pumpkin pie spice
Whipped cream for garnish
Directions: 
In a large mixing bowl, mix together pumpkin, milk, rum, brown sugar, one-third of the Bisquick, eggs and pumpkin pie spice. Pour mixture into the slow cooker. Place pats of butter over the mixture and sprinkle with remaining Bisquick.
Cook on low for six to seven hours or until mixture is thick and crust is golden brown. Serve warm with whipped cream and enjoy!
More easy pie recipes
Easy baked strawberry pie recipe
Easy crunchy apple pie recipe
Gluten-free Goodie of the Week: Lemon meringue pie