vegan recipe ideas
for the holidays
During the holidays everyone loves to eat. However sometimes we forget there are vegans and vegetarians in the group. Here we share a few wonderful ideas for those who eat a plant-based diet.
With the holidays coming up everyone gets excited when they think of the wonderful dishes that will be served up at gatherings. While most put their focus on the turkeys and hams, here we put the focus on recipes for those who are vegan and vegetarian. Veganism is an ever-growing lifestyle that many people are following for health benefits, environmental reasons and also to help eliminate animal cruelty. If you have ever dabbled with the idea of a vegan lifestyle, these helpful and easy recipes are sure to inspire.
Tarragon and maple roasted red potatoes recipe
Serves 8
Ingredients:
4 pounds new or red potatoes, washed and sliced in 1/4-inch thick wedges (you may also use sweet potatoes or yams)
1/2 cup pure maple syrup
1/4 cup Earth Balance buttery spread, melted
1/4 cup freshly squeezed orange juice
1/2 teaspoon salt
2 teaspoons dried tarragon
Pepper to taste
Directions:
Preheat the oven to 350 degrees F. In a large casserole dish arrange the potato slices in overlapping rows.
In a bowl add the Earth Balance, maple syrup, orange juice, pepper and salt mixing well. Pour over the potatoes, making sure they are evenly coated. Sprinkle the tarragon over the tops of the potatoes. Lightly cover with foil and bake for 30 minutes. Remove the foil and bake an additional 15 minutes or until golden. Remove from oven and serve.
Holiday roasted acorn squash with quinoa stuffing recipe
Inspired by keepin it kind
Serves 6
Ingredients:
For the acorn squash
3 small acorn squash, halved lengthwise and seeds removed
1/4 cup balsamic vinegar
1/4 cup pure maple syrup
Salt and pepper to taste
For the quinoa stuffing
Extra-virgin olive oil
1-1/2 cups cooked quinoa
1/2 red onion, minced
1/2 sweet onion, minced
1 whole red pepper, finely chopped
1 large bunch fresh baby spinach, cleaned and stems removed (you may also use kale)
2 cloves garlic, minced
1/2 cup soy feta (a vegan version of feta cheese usually found at health food stores; vegetarians can use regular feta cheese)
Freshly chopped parsley and pomegranate seeds for garnish (optional)
For the citrus dressing
1/3 cup freshly squeezed orange juice
2 tablespoons balsamic vinegar
1 tablespoon extra-virgin olive oil
Salt and black pepper, to taste
Directions:
Preheat the oven to 375 degrees F. Line a baking sheet with parchment paper and place the acorn halves on the baking sheet. In a bowl mix the balsamic vinegar and the pure maple syurp. With a pastry brush lightly coat each of the halves with the mixture and sprinkle with salt and pepper. Roast for 40-45 minutes or until the squash is very tender.
In a bowl prepare the citrus dressing. Add all of the ingredients to a blender and blend until smooth. Set aside.
In pan over medium heat add the olive oil, the minced onions, red pepper, spinach, garlic, salt and pepper. Saute until the vegetables are just slightly soft about five minutes and add the veggies to a large mixing bowl. Add in the quinoa, soy feta cheese and half of the citrus dressing tossing very well.
Remove the squash from the oven and allow to cool for five minutes. Begin spooning the stuffing into the center of each squash. Before serving, garnish with extra dressing, fresh parsley and pomegranate seeds.
Fresh orange cranberry sauce recipe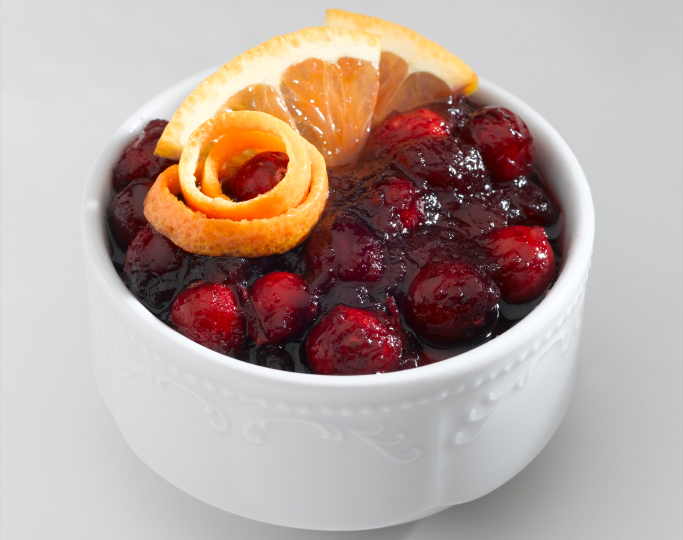 Yields approximately 2 cups
Ingredients:
1 (1 pound) bag of fresh cranberries, washed
1 cup organic white sugar
1 cup fresh orange juice
Zest from 1 orange
Directions:
In a saucepot over medium heat, add the orange juice and sugar stirring until the sugar is dissolved.
Add the cranberries and the orange zest to the pot and stir, cover with a lid and allow the mixture to simmer for 10 minutes or until all of the cranberries have popped.
Remove from heat and allow the sauce to cool. This will also thicken as once it has cooled. Serve warm or at room temperature.
Loaded baked sweet potato recipe
Inspired by made to create
Yields 6 (one sweet potato per person)
Ingredients:
6 small sweet potatoes or jeweled yams, washed
2 roasted red peppers, sliced into thin strips
2 cups kale or baby spinach, sauteed in olive oil
2 avocados, halved and pits removed then sliced
1/4 cup nutritional yeast
Tahini
Directions:
Preheat oven to 400 degrees F. Poke each potato with holes and wrap in foil. Bake for 45 minutes or until the potatoes are soft. Remove from oven and allow to cool enough to handle.
Remove each potato from the foil and place on a serving platter. Stuff each potato generously with sauteed kale or spinach, top with slices of roasted red peppers and avocado. Sprinkle the nutritional yeast over the tops and drizzle with tahini.
Easy vegan pumpkin pie recipe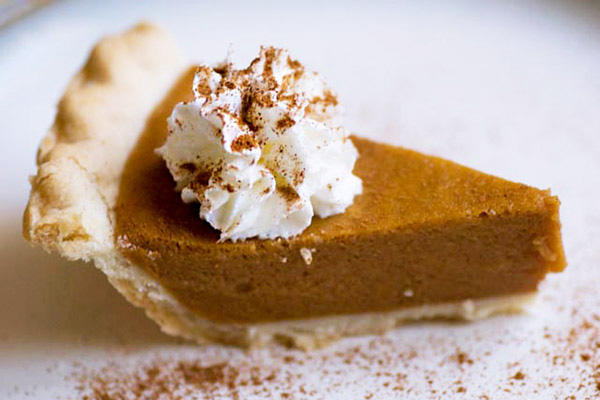 Yields 8-10 servings
Ingredients:
1 pound silken tofu
1 (16 ounce) can pumpkin puree
2 tablespoons pumpkin pie spice
1/2 teaspoon salt
1/3 cup coconut oil or canola oil
1 teaspoon pure vanilla extract
1 cup brown sugar
1-1/2 tablespoons molasses
1 premade vegan pie crust (you can find these at most health food stores)
Directions:
Preheat oven to 350 degrees F. Combine all ingredients, except for pie crust, into a food processor and process until the mixture is very smooth.
Pour the mixture into the premade pie crust and bake for one hour.
Remove from the oven and allow to cool and then chill for several hours. Top with nondairy whipped cream and serve immediately.
More vegan and vegetarian ideas
Comfort food vegan-style
Vegan pasta salad
Vegan breakfast recipes