A noodle catastrophe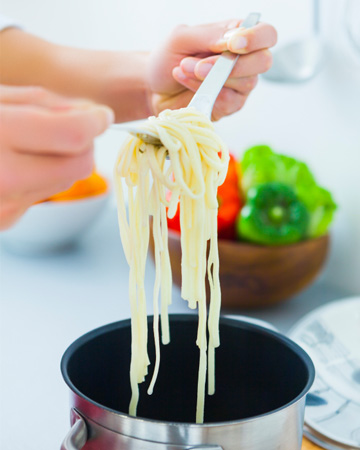 What to do with mushy noodles
Dinner's almost ready — the sauce is warming, the bread's baking and the noodles are boiling. The timer for the noodles goes off, but you get distracted and forget to take the noodles off of the burner — for barely a minute. Turns out, they're now overcooked and mushy. Dinner's ruined… or not!
Noodles are such a time-sensitive food, it's easy to accidentally overcook them. Not only do overcooked noodles have a chewy and unpleasant texture, but when you boil them too long, you change their glycemic index, which can increase your blood sugar. So, not only are you altering their taste and texture, but their nutritional value as well.
Minor distractions can cause a meal to be ruined. Next time this happens, don't throw the noodles out. Instead, find a way to save them.
Prevent it from happening
To avoid overcooking your noodles in the first place, set the timer for two minutes less than the directions on the package recommend. Sample a noodle once the timer dings to see if it's cooked to your liking. Properly cooked noodles will be slightly firm yet tender, otherwise known as "al dente." Once they're done, immediately drain and rinse with cold water to prevent the noodles from cooking further.
Saute them
One solution to overcooked noodles is to throw them in a pan with a little butter or olive oil and saute them over low heat. This will crisp them back up a bit, allowing you to salvage dinner. Add some garlic or Parmesan cheese for an extra kick, and to disguise the overcooked flavor of the noodles.
Make a noodle pancake
Change dinner up slightly by adding some onions, garlic and tomato sauce (this is probably already warmed and ready to go) to the noodles. Mix well and form into individual pancakes. Fry with some butter or olive oil on a flat griddle, and you've got yourself a delicious meal in minutes.
Mask the mushiness
There are ways to make it seem like you didn't overcook the pasta without having to saute the noodles or make a noodle pancake. You can simply cover the noodles with a rich sauce and mix well. This takes away the "slimy" taste that overcooked noodles carry, leaving you with a delicious, slightly softer noodle. Also, by adding crunchy vegetables, such as zucchini or bell peppers to the dish, you can provide a much-needed al dente texture.
Water and ice
Fix them the old-fashioned way — with water and ice. Drain the noodles in a strainer and rinse well with cold water. Place some ice cubes on top of the noodles while rinsing to make the water even colder. Not only does this stop the cooking process immediately, it also prevents the noodles from sticking together and gives them a firmer texture.
More noodle recipes
Noodle dishes from around the world
Thai peanut noodle bowl recipe
Chicken, cabbage and noodle stir-fry recipe