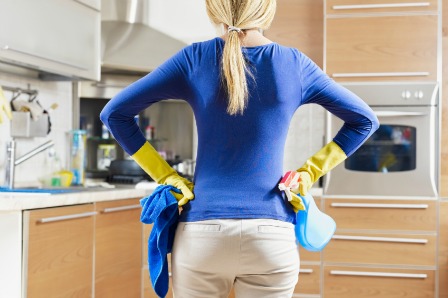 The kitchen is the hub of the household and keeping it clean can be a challenge! Using this simple checklist, you'll have your kitchen to spic and span in no time.
How to keep a clean kitchen
Refrigerator
Think about the number of times unwashed hands open the refrigerator door! Keep your tallest appliance nice and clean with daily, weekly and monthly cleaning routines.
Countertops
Your kitchen will look and feel cleaner if the countertops are always clean.
Stove/Oven
Cooking on a dirty stove is unappetizing, so keep yours nice and clean!
Floors
Save floor cleaning for last since much of what you cleaned from other parts of the kitchen may end up there…
Daily
Use a damp paper towel or a disinfecting wipe to clean small spills and scuffs... and get to them before they have a chance to dry.
Working from the walls toward the middle of the room, use a dry sweeper or dust mop and dustpan to take care of errant crumbs.
Weekly
Using a damp paper towel or your vacuum's crevice tool, clean the corners you may have missed with daily sweeping.
Wash the floor using a cleaner that's recommended for your flooring type or a safe homemade solution of water, vinegar and a drop of dishwashing liquid.
Sinks
Ew! Bacteria love kitchen sinks and faucets. After you've cleaned the rest of the kitchen, make sure your sink is germ-free.
Expert Tip
Clean from the top down so dust from the cabinets doesn't fall onto clean countertops and then onto clean floors. ~Bruce Lubin, author of Who Knew?
More helpful kitchen tips
No-mess cooking
How to prevent food borne illnesses
Stop the spread of salmonella